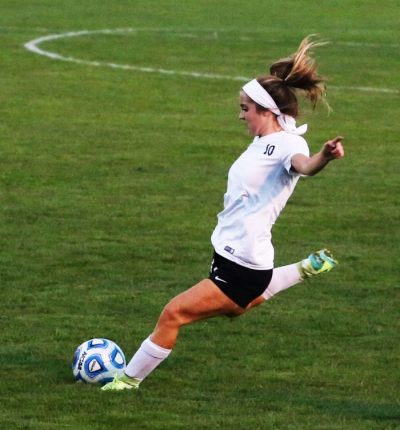 By GARRETT WENZEL
Coach Jeff Hart's defending state champion and No. 1-ranked Penn Kingsmen Girls Soccer Team opened the Penn Sectional with a 9-0 victory against South Bend Riley on Tuesday, Oct. 3.
Penn (17-0-1) advances to the semifinal game against South Bend Adams on Thursday, Oct. 5.
Penn stung Riley with six goals in a seven-minute span in the first half.
Lauren Cernak scored a goal in the fifth minute to put the Kingsmen on the board.
Kristina Lynch followed that with a goal in the seventh minute to put Penn up 2-0.          
Lynch scored her second goal in the ninth minute.
Lauren Hamilton followed that with a goal in the 11th minute to make a 4-0.
Brooke VanDyck also scored in the 11th minute to make it 5-0 Kingsmen.
Haylee Shahan scored in the 12th minute to make it 6-0 Kingsmen.
Molly McLaughlin added to the Kingsmen scoring total with a goal in the 19th minute.
Sydney Egendorfer scored in the 48th minute to make it 8-0 Penn.
Mallory Lehman closed out the scoring in the 54th minute to make it 9-0 Kingsmen.