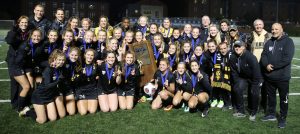 An hour after the bright red lights of the Butler University scoreboard counted down to the second consecutive State Championship by the Penn High School Girls Soccer team, the stadium lights were turned off and darkness cascaded across the field.
There will be no dimming the accomplishments of the Penn Girls Soccer Team, which carved out one of the nation's top legacies in the sport.
Coach Jeff Hart's Penn Kingsmen defeated Guerin Catholic, 2-0, on Friday, Oct. 27, to earn the Class 3-A high school girls soccer state crown in Indiana.
The 2017 State Championship match will rank as a clash of titans in Indiana High School Athletic Association history. Penn entered the Championship game ranked No. 1 in the Nation by the prestigious soccer publication, topdrawersoccer.com. Guerin Catholic entered the title match ranked No. 1 in the Nation by MaxPreps.
Penn finished the season 23-0-1 and boasts a 45-0-2 record over the past two seasons.
Penn and Guerin Catholic waged a fierce battle. The Kingsmen turned back two Guerin Catholic attacks thanks to a stunning diving save by Mackenzie Wood in the 21st minute, and then a leaping save by Wood in the 52nd minute.
Kingsmen lightning struck in the 54th minute when Molly McLaughlin rocketed a screamer from 25 yards away to give Penn a 1-0 record. Kristina Lynch assisted on the goal.
Maya Lacognato delivered the dagger in the 61st minute. Lynch drove baseline and dished to Lacognato when the Guerin Catholic goalie and defensive raced to cover Lynch.
"Winning state for a second consecutive season was such an incredible feeling," said Lynch, a USA Today First-Team All-American who is a Florida State recruit. "It was very meaningful to us, because it shows that all our hard work has paid off. This is an incredibly talented and fun group of girls and the memories we have made throughout the years will last forever.
"It is fun to think that years from now we will all be able to come together and share these special memories. Winning state was the highlight of my high school career! To win the title in my last high school game was a dream come true."
Penn entered the season as a huge target as the defending State Champions and the No. 1 ranked team in the nation in the topdrawersoccer.com pre-season poll.
"Although this team had an immense target on our back throughout the season, we dealt with the pressure incredibly, and by having that demand of being No. 1 it, forced us to work even harder and become even better," Notre Dame recruit Brooke VanDyck said.
Lynch agreed that the Kingsmen embraced the challenge of being a target, and stepped up their game.
"Having a prominent target throughout the season was definitely a challenge, but in the end it helped us win," Lynch said. "Every team that we played gave it everything they had, which forced us to do the same. It definitely showed our mental strength as well as our overwhelming desire to experience the championship feeling again."
Penn pounded Guerin Catholic for 19 shots, while the Golden Eagles only managed eight shots against Penn's defense.
"I think our ability to move the ball, switch the point of attack and control the pace of the game made us successful at the right moments," said McLaughlin, a Xavier recruit. "We knew going in what their weaknesses were and we were able to use our knowledge of the game and our strengths to capitalize on our chances."
Lynch said that Penn's work ethic and drive were difference-makers.
"Each person who stepped on the field worked extremely hard and did everything they could to help the team win," Lynch said. "There was so much energy and determination that each of us brought to the field which made us very dangerous as a team. We were poised, patient, and took advantage of our opportunities. It's a real testament to our coaches and how they prepared us as well as the type of players we have on this team."
For Lynch, talent and team chemistry were major factors that put Penn above every other high school girls soccer team in the nation.
"We all work extremely well together and our talents complement one another," Lynch said. "We play for more than just ourselves – we play for each other, which is very rare especially in girls high school soccer.
"We have great talent for sure, and the best coaching staff in the state. We all have a love for one another and a sincere desire to win as a team. The chemistry on this team was the biggest difference. It is what kept us going all year and what pulled us through the shootout against Noblesville and the State Championship. I'm so honored and proud to be a part of such a special team!"