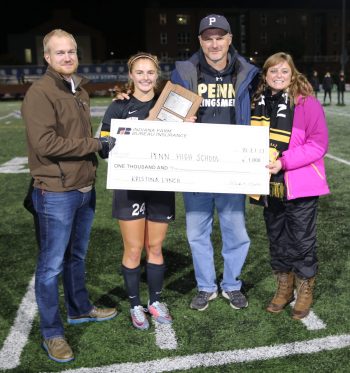 Penn High School's Kristina Lynch added to an All-American legacy when she was named the Indiana High School Athletic Association Mental Attitude Award winner following the Class 3-A State Championship Game at Butler University on Friday, Oct. 27.
Penn beat Guerin Catholic, 2-0, to repeat as State Champions.
Lynch, a Florida State University women's soccer recruit, led Penn to three consecutive State Championship Games. Penn was state runner-up in 2015, won State Championships in 2016 and 2017.
A midfielder, Lynch owns the Penn career record with 130 goals and has a record 68 career assists. She has 44 goals and 18 assists this season.
Named a First-Team All-American by USA Today, Lynch has been invited to play in the All-American Game in Orlando, Fla., on Dec. 2.
Lynch is the 26th IHSAA Mental Attitude Award winner in Penn history.
"Kristina is a remarkable student athlete who is genuinely dedicated to making her teammates better," Penn High School Principal Sean Galiher said. "She always shows commitment to her team and treats others with respect and dignity. She is the model teammate who represents her family and school with pride."
Lynch is Penn's eighth IHSAA Mental Attitude Award Winner since 2015.
"Kristina Lynch is the epitome of Penn's commitment to education-based athletics and our commitment to the concept of a student-athlete," Penn Athletic Director Aaron Leniski said. "She pursues excellence in the classroom and on the soccer field. We are proud of the way she has represented Penn, and in the outstanding legacy that she has carved out. She is an outstanding role model for our younger players."
PENN IHSAA MENTAL ATTITUDE AWARD WINNERS
1983, Football (4-A), Mark Plencner
1989, Football (5-A), Eric Kline
1992, Girls Cross Country, Jill Nace
1995, Football (5-A), Matt Geesman
1996, Football (5-A), Scott Becker
1998, Baseball (4-A), Blake Gaugler
1997, Football (5-A), Brad Monhaut
1999, Boys Soccer, Matthew Abbott
2000, Football (5-A), Justin Smith
2003, Girls Tennis, Lauren Woodward
2003, Girls Golf, Casey North
2003, Football (5-A), Wade Iams
2004, Girls Cross Country, Laura Carr
2005, Boys Tennis, Chris Jordan
2011, Girls Basketball (4-A), Ashley Lutz
2011, Girls Golf, Deanna Song
2011, Volleyball (4-A), Kaitlyn Hickey
2011, Football (5-A), Patrick Adkins
2015, Wrestling, Chase Osborn
2015, Baseball (4-A), Tim Lira
2015, Soccer (2-A), Kamra Solomon
2016, Football (6-A), Camden Bohn
2016, Softball (4-A), Alyssa Griman
2016, Soccer (2-A), Alexis Marks
2017, Baseball (4-A), Trevor Waite
2017, Soccer (3-A) Kristina Lynch