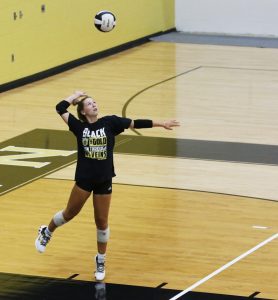 Cadence Mcglothlen is a senior at Penn High School starting on the Penn Volleyball team. As far as the 22′ season Cadence McGlothlen so far has an average of 16 digs per game.
What inspired you to start playing volleyball?
"I played volleyball in 5th grade at my elementary school. After that, I was asked to play on a travel volleyball team and that's how I initially started."
What is it that makes you love this sport?
"Overall just the bonds that I have with my teammates and the life lessons that it teaches me."
Who are your biggest supporters?
"My grandma, Gage, Lynn, and Tim. They all have played a big role in my life supporting me. They always come to my games and are there for me no matter what."
Your most memorable moment from Penn Volleyball?
"The team dinner we had after semi-state. We all just sat and talked and reflected on our final four seasons, it was really nice."
Do you have any plans on playing volleyball in college?
"As of right now I honestly have no idea but we'll see what the future has in store for me."