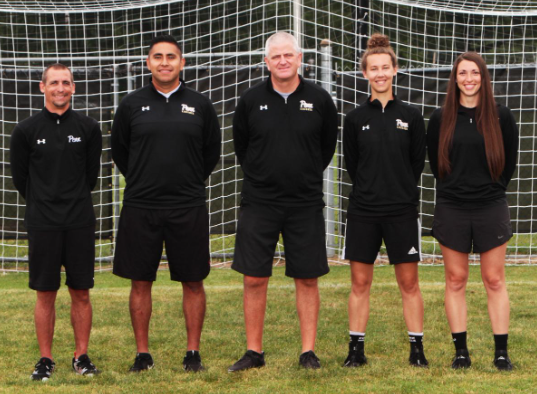 Mr. Gutierrez, a Spanish teacher at Penn, has gained the additional title of Coach Gutierrez as he is the newest addition to the Penn Girls Soccer Coaching Staff. He has been coaching since the start of the team's preseason and is ready to take on the Fall 2022 season with the JV team. 
The team welcomes him with open arms, and helps him to make a seamless transition to teacher and coach. When asked, Coach Hershberger (who Gutierrez works closest with)  has many positive things to say about him.
"He's done a great job stepping in and has been a huge benefit to the program, I feel lucky to have him as part of the coaching staff," Hershberger said.
Not only do the coaches see him as a positive addition to the team, there isn't a single player who doesn't hold a liking for him that includes player Reagan Archuleta.
"He is really easy to talk to and he fits in really well. Overall a really good addition to the team, we love Guti," Archuleta said.
While the staff and players are all happy for his arrival on the team, the one with the brightest outlook of all is Coach Gutierrez himself. Here is an inside look at his thoughts on joining the team this season. 
What made you want to be a part of the Penn Girls Soccer coaching staff?
"Penn has a very good reputation, especially on the girls end, and they are always very talented and you can tell they are organized. I wanted to be a part of that even before I started teaching here. I used to coach over at Warsaw and we played Penn a few times, they always seemed unified and talented, and I thought it would be incredible to be a part of the team." 
How has your transition gone from teaching here at Penn to being a full time teacher and coach?
"I would say it has gone really well. I try to make an effort to get to know the students at Penn, and being a coach has given me an opportunity to get to know more of the students. It also gave me a chance to meet more people than I was able to meet as just a teacher. I honestly can't say a negative thing about anyone on the team." 
What is your favorite piece about being a coach?
"I do like to win, but what's even better than a win for me is when I'm able to help a player achieve things that they have been wanting to achieve. Whether that's improving their first touch or bettering their non-dominant foot, no matter what it is, if I can help them in any way to achieve one of their goals that is better than a win." 
What does the atmosphere look like going into a big game?
"I feel like on both levels, JV and Varsity, they are very united. I've heard the term family going around, and it didn't come from me, which is something that I have had to tell my teams in the past. I had to get them to understand they were more than players, they were a family, but you guys already had that mentality by yourselves which I think is amazing."
How do you feel about the start of this season?
"I feel that it is going well, I know that Varsity has had its struggles with injuries and other setbacks, but I also know that the talent is there. And I do think that once we find our group we will be able to win at any level."