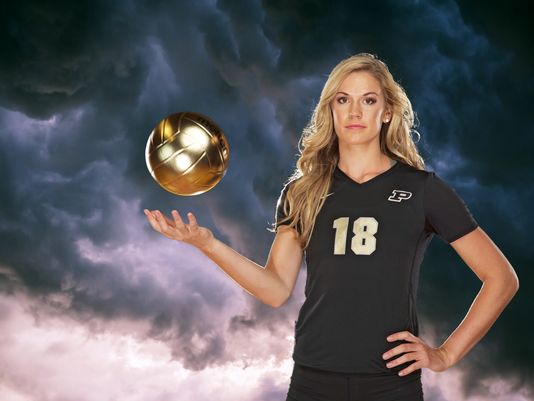 By WIL TIEBOUT
Former Penn High School volleyball star Annie Drews — who helped the Kingsmen win two state championships — is having a breakout season for Purdue this year. Less than halfway through the season, Drews already has 186 kills, almost 100 more than her next closest Purdue teammate. Last year, Drews received an honorable mention from the NCAA and is pushing to get even more national recognition in her senior season.
Numbers don't lie, and Drews, a 6-foot-4 outside hitter, is currently ranked 32 in the country with 4.23 kills per set. She has helped Purdue earn a No. 18 ranking nationally.
To reach this level, Drews had to put in many hours of work.
The Penn volleyball program helped her prepare for this high level of play. After her sophomore season in high school, Drews transferred from Elkhart Central to Penn.
When comparing Penn to Elkhart Central, Drews said, "At Elkhart Central, if you were athletic at all, you could play multiple sports and be successful, but Penn has much more competition and makes you work much harder for one sport."
Drews played for coach Lisa Pawlik and coach Sarah Hendricks at Penn. Drews said that the Penn program is run like a college program. It helps prepare players for the transition between high school and college.
On why she chose Purdue over other schools recruiting her, Drews said,  "The coaches at Purdue were very welcoming and allowed me to play several different positions to see which one I fit best in."
Drews said that while other schools had a set position in mind, Purdue believed in her ability and that was very important to her. With this much success, Penn and Purdue have both benefitted from Drews' talent.
Photo: JC Online