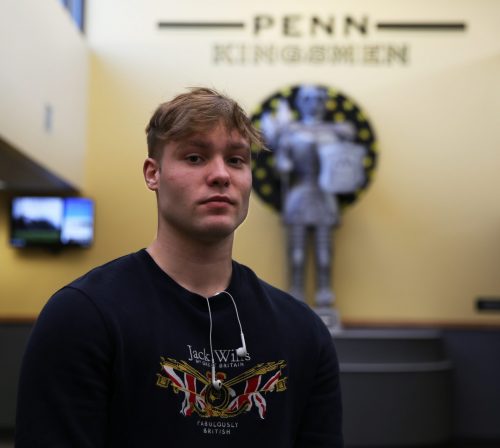 Dominic House is an exchange student from The Cokethorpe School in Oxford, England. In addition to taking classes at Penn, he is playing Rugby for the Kingsmen this season.
Where are you from?: Oxford, England
What's your favorite thing about America?: I really enjoy the variety in food … so much selection. I also enjoy being around the Rugby lads, the camaraderie is welcomed. I also like Penn and its facilities
What do you miss most about home?: I would say I miss going out with my friends on weekends. I also miss my family. But I am yet to feel homesick, which would mean that I've assimilated into America quite well. I also miss not being able to drive.
How old are you?: I turned 18 May 10th.
Did you graduate in England?: I graduated in July 2019 with history, geography, and politics A levels
What is your favorite food that you've tried here?: I really enjoy burritos at Qdoba. I also love eating at Cheddar's, where I have an American hamburger. The Mexican food is great, plus I'm staying with Brenden Toombs, whose mother is Mexican. Very flavoursome.
Do you play for a rugby team in England?: I played for multiple. So I played for my school called Cokethorpe from 2012 to 2019. Then I played for a club called Witney RFC 2013-present. I also played representative invitational regional rugby for Oxfordshire county 2013-2019. That is the top players from my county. I also played a couple tournaments for London Wasps PDP academy 2014/2015 (professional rugby team).
How did coach Bart get in contact with you?: Penn Rugby toured England last spring break. I was asked by my Rugby coach if I wanted to play for Penn for a season and he'd speak to Bart. It went from there, I was already on a gap year with nothing to do anyway so it fitted in rather well.
Do you plan on continuing your rugby career after you go back home?: I am looking to possibly play for the Royal Marines team, but most likely not. I have some back issues and my main life goal is to become a Commando and hopefully SAS or SBS selection.
What is a Commando?: A Royal Marines Commando, it's a special forces soldier.