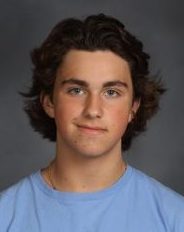 Jacob Renbarger is a junior at Penn High school and plays on the Penn High school hockey team. Jacob is 17 years old and drives a Jeep.
How old were you when you first started playing hockey?: "I started skating when I was two years old but started playing organized hockey when I was five.
Who encouraged you to want to start playing hockey?: "My dad played hockey and played in men's leagues and I always wanted to play from watching him."
What accomplishments would you like to achieve in next season?: "I want to win state and city titles."
Who is your favorite NHL player?:  "It would have to be Auston Matthews."
What about Auston Matthews influences you?: "He's fun to watch and I grew up watching him and hearing about him all the time when I was younger in Arizona."
What are your future plans?: "My future plans with hockey are maybe playing juniors somewhere or playing college.
Favorite thing about playing hockey?: "My favorite thing about hockey is being in the locker room or in the hotel with the boys.
Least favorite thing about playing hockey?: "My least favorite thing about hockey is the early morning games."
 Best memory about hockey?: "Scoring my first high school hockey goal in my first game."
What is your favorite position?: "I've played every position in hockey but I would have to say forward is my favorite."