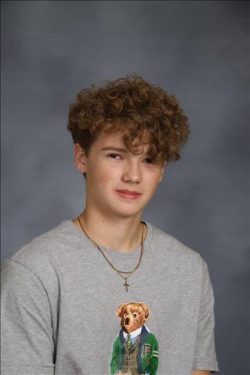 Avery Brown is a Junior at Penn High School. He is a goalie for the Kingsmen Hockey Team.
How long have you been playing hockey?: Since I was 4 years old.
How do you get hyped up before games?: Listening to music.
If you couldn't be a goalie, what position would you want to play?: Center.
Do you see yourself playing hockey in college or even after you finish college?: Yes possibly.
What advice would you give younger/ new players?: Just be yourself.
What are some good lessons Penn Kingsmen Hockey has taught you?: To work hard.
What's your favorite thing to do after games?: Go out to eat.
How do you stay on task with school while playing hockey and lacrosse sports?: Try and get a lot of work done during study hall.
Coolest stadium you've played at?: Joe Louis Arena.
Do you have anything that you feel gives you good lucks before games?: Playing tips before games.