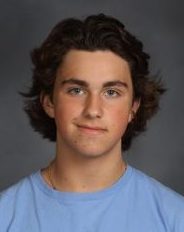 Jacob Renbarger is a Senior Forward for the Penn Hockey Team. He enjoyed a break-through season in 2019-2020, and looks to step up his game as the Kinsgmen look to make an impact in the State Tournament.
What does a summer look like for Jacob Renbarger leading into the following season?: "I really enjoy hanging out with buddies, working for Cannon Cocquyt and our lawn service called Lawn Kings (#freeads), working out preparing for the upcoming season, traveling to showcases (Boston, Colorado, Detroit, etc.) and staying relaxed chillin' at the lake."
What made you start playing hockey, and at what age did you start to fall in love with the game?: "My dad played when he was a kid and got me on the ice as soon as I was the age to skate. I was two years old when my dad got me on skates, but I truly fell in love with the game in fourth grade when I was other kids worst nightmares causing them to get yelled at on their way home from losing a critical game."
What are your Goals heading into your Senior Season?: "I really want to win City and State, beat Culver, and put up 50 points. 
What do you feel your strengths and weaknesses are?: "I believe my strengths are my puck skills, such as my shot and stick handling. Some of my weaknesses are my defensive side of the game and edge work.  I feel I am a great offensive threat, especially with the puck on my stick, but feel I could improve on helping the team in the defensive zone."
Superstition tends to be something that many hockey players believe in. Do you have any superstitions and if so, what are they?: "Superstitions are something I definitely believe and take part in.  Some of the various superstitions I have vary from the way I tape my stick, the food I eat before a game, the music I listen to, but more importantly the things I do with my buddy Cannon Cocquyt. We always sit three feet apart in the locker and must have a corner spot, give each other three butt slaps each, pregame passing, throw a puck up in the air and see who it hits, and when warmies are about done and the team is huddled we play a little game to see how close we can get with out making any passing errors. This is something that takes place every game and gets each of us locked in and ready for a big game." 
What are your plans after High School Hockey?: "After High School I want to attend Arizona State University and play college hockey. I love sports and hope to go into the sports business side of things."
What is a piece of advice that you would give to the underclassmen? – "Don't be like Bo Clark, but all jokes aside, work hard during practice, find a way to contribute to the team, and do the things you have to do off the ice to make you a better player and person on the ice."
What has been one of your greatest high school memories?: "One of my greatest memories would definitely be scoring the game winner in our home opener against St. Joe and scoring the game tying goal on senior night in front of a packed house with a couple of minutes left."
What are you going to miss most about the hockey program at Penn?: "I'm definitely going to miss hanging out with the boys at practice and at tournaments, smacking St. Joe around, having friends support us at games, getting yelled at by coach Brown, and just playing hockey with the guys I grew up with."
Is there anyone special in your life that you owe your success of scoring goals to?: "My dad was the one who put a stick in my hand and taught me how to score goals and work on my shot. Also watching people like Austin Matthews and Alexander Ovechkin rip twine made me push myself hoping I could be like them one day." 
 If you could model your game off of one player in the NHL who would it be?: "I would definitely say I model my game after Alex Ovechkin. I like the way he brings a lot of energy to the game and his ability of scoring goals in any situation. He was someone I always watched growing up and I always admired how he played."