Boys Lacrosse: Big week ahead for Kingsmen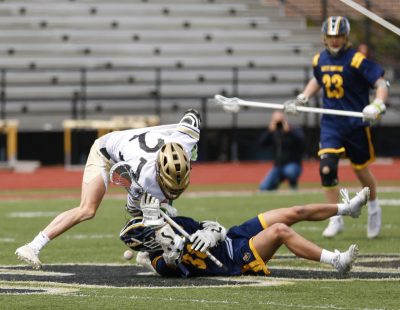 The Penn Varsity Boys Lacrosse Team will be taking on its crosstown rival, St. Joseph High School, on Wednesday, May 13, at 8 p.m. at St. Joe. We wish to see a sea of black and gold there supporting our Kingsmen! Penn defeated St. Joe, 9-5, earlier this season.
The varsity team will also host its Senior Ceremony at 11 a.m. on Saturday, May 15, prior to the game against Elkhart High School. Be sure to come out and support this year's seniors, all 17 of them! 
Senior List: 
Ewan Ma #12

CT Loring #19 

Aidan O'Connell #8 

Seamus Penney #43

Dyllan Holt #17 

Ethan Irish #38 

Logan Huchko #30 

Carson Perkins #15 

Jake Gerndt #22

Devyn Martinez #51

Zach Tonkovich #1

Aidan Sweeney #32

Chris Head #47 

Ben Feltzer #56

Andrew Ford #60 

Wiley Payne #14

Cole Potter #44