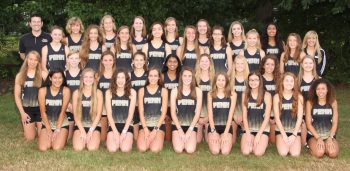 Penn's Girls Cross Country Team turned in a spectacular effort at the 50th running of the prestigious New Prairie Invitational, finishing second among 32 teams in the Class AAA race on Saturday, Sept. 16.
About 2,700 runners from 105 high schools in Indiana, Michigan, Illinois and Ohio competed in the event.
Penn's Girls placed second with 153 points. Valparaiso finished first with 97 points.
The Kingsmen Girls competed in a field that included one third of the Top 25 teams in Indiana.
"On a hot day, the strength and depth of the Lady Kingsmen shined through," Penn Girls Cross Country head coach Michael Clements said. "Every day at practice they rise to the challenge which I present them and I'm excited that they are starting to see the hard work pay off with success on some of the biggest cross country stages in Indiana.
"We were extremely competitive at every position, including our sixth & seventh runners beating several scoring runners from other teams, which was huge for us today," Clements said.
"A big theme of ours is being adaptable, both in life and running, and today our pack adapted phenomenally to some tough conditions and stellar competition."
Penn's Lauren Frank placed 16th overall with a time of 19:30.8. Dani Spring was 25th (19:57.3), Brooke Neal was 27th (19:58.7), Ellie Jankowski was 40th (20:20.6); and Riley Keppler was 45th (20:28.9).
Valparaiso also won the Boys Class AAA race with 88 points. Penn was seventh with 217.
Colton Shail was Penn's top runner with a 28th-place finish (16:46.2). Curtis Cornell placed 34th (16:51.1), Matt Long placed 45th (17:01.9), Chandler Neal placed 46th (17:04.5) and Chad Piatt places 64th (17:22.9).
Penn's Girls boasted the top two runners in the Girls JV race, which had more than 500 runners. Reagan Hoke was first (20:59) and Haley Makowski was second (21:06).
Click here for complete results: http://hs.npusc.k12.in.us/crosscountry/results.htm