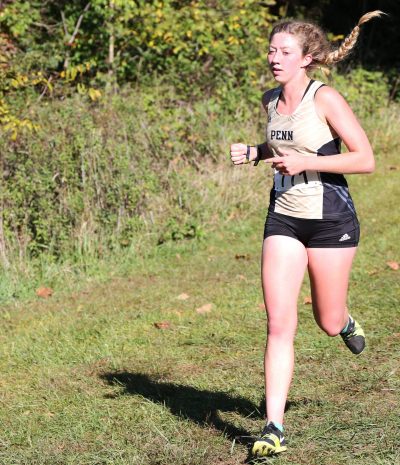 The Penn Girls and Boys Cross Country teams placed in the top five team finishes at the Penn Invitational, hosted by the Kingsmen on Saturday, Aug. 31, 2019. 
The Penn Boys Team placed third. In the lead was Homestead with 45 points. Valparaiso finished second with 56 points, followed by Penn (89), Wabash (189), and Bishop Dwenger (160). Mariano Retzloff ran the 5K course in 16:41 placing seventh, Carter Kraser ran it in 16:53 placing 12, and Ben Boardley placed 17th and ran the course in 17:07. Other contributors were Joshua Temeles, who placed 25th and ran a time of 17:18, and Cohl Fox, who finished 33rd with a time of 17:29. 
The Penn Girls Team placed second. Bishop Dwenger finished first with a total of 50 points. Penn came in second with 68 points. Homestead tied with Penn at 68 points placing third, followed by Northridge (108) and Culver Academy (173). Brooke Neal led the Kingsmen and finished in fourth place. She completed the course in 19:41. Haley Makowski ran a 20:49 and came in 17th. Not far behind were Kayla Edgerly, who ran the course in 20:52 and placed 18th, and Aislynn Alkire, who finished in 19th place and ran the 5k in 20:54. Reagan Hoke ran a 21:06 and finished in 23rd. 
The Penn Boys Junior Varsity Team finished third. Homestead lead with 27 points and Valparaiso finished second with 41 points, followed by Penn (111), Northridge (135), and Riley (136). The Junior Varsity Boys Cross Country Team top five runners were Nick Probst in 17th place with a time of 19:05, Caleb Evans who finished in 22nd at 19:12, and Jaitin Soni finished the course in 19:22 and placed 28th. Declan O'Donnell came in 30th with a finish time of 19:27 and Brayden Mammolenti ran the course in 19:52 and placed 52nd. 
The Penn Girls Junior Varsity Team claimed first place with 18 points, followed by Bishop Dwenger (50), Homestead (71), Northridge (138), and Goshen (166).  Ava Gillis ran the challenging course in 21:39, Nikki Jerzak finished with a time of 21:53, and Cassidy Cripe completed the 5k in 22:05. They placed first, second, and third respectively. Other contributors to the Kingsmen's win were Adriana Juarez who came in fifth with a time of 22:34 and Hannah Cussen who ran the course in 22:54 and placed seventh.