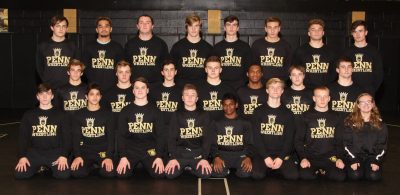 Six Penn wrestlers posted pins as the Kingsmen defeated Elkhart Central, 53-20, on Thursday, Jan. 4, to stay undefeated in Northern Indiana Conference dual meets.
Tanner DeMien struck for a pin in 1:35 in the 126-weight class.
Logan Hill only needed 1:26 to pin his opponent at 132.
Preston Risner dominated for a pin in 4:00 at 138.
Austin Heater pulled off a pin in 5:54 at 152.
Max Chaffee scored a lightning-quick pin in :38 at 182.
Adam Berta earned a pin at 220.
Ryan Varner won by forfeit at 170.
Evan Light (113) won a 9-3 decision.
Vince Sparrow (120) won by technical fall.
Jeffrey Harper (145) won an 8-5 decision.