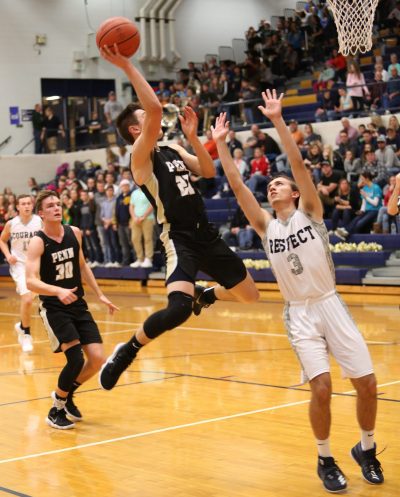 Penn blasted to a 21-4 run in the first quarter and stormed to a 71-59 victory against host South Bend Adams in Boys Basketball action on Friday, Jan. 5.
Penn is 6-1 overall and 3-1 in the Northern Indiana Conference.
Noah Applegate ignited the Kingsmen attack with 20 points and 6 rebounds. Applegate, a 6-foot-6 All-State candidate, stung the Eagles with a spectacular alley-oop slam dunk off a lob from Drew Lutz to highlight Penn's first-quarter effort.
Drew Lutz scored 17 points and kicked out 8 assists.
Noah Krathwohl scored 12 points.
Beau Ludwick worked for a double-double, scoring 10 points and battling for 10 rebounds.