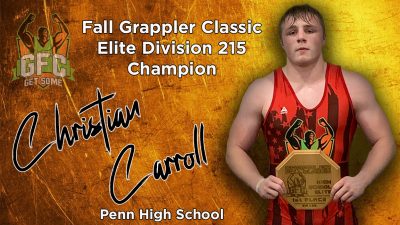 By MORGAN XOURIS
Christian Carroll, a Penn High School sophomore wrestler who is ranked 15th in the country in the 215-pound class as of right now, is certain to be trending upward.
Carroll won the Elite Championship at a national tournament – The Grappler Fall Classic – in Myrtle Beach, South Carolina, on Sunday, Oct. 4. The defeated the No. 4 and No. 11 ranked wrestlers in the country on his way to the championship.
Carroll and another Penn student, Juan Grange, wrestling in the elite 215 class. Grange placed fourth.
Penn's Peyton Kendall placed first in the high school 240 division.
Carroll started wrestling in Kindergarten, and was always motivated by the satisfaction of winning.
"I try to win in everything in life – why not be the best at everything" Carroll stated.
Carroll is a hardworking individual who has a bright future ahead of him and will be going many places. He has a number of colleges already contacting him, including Duke, Columbia, Oklahoma State and West Point.
Carroll's national victory symbolizes his drive to be the best. He fought back from a knee injury that cost him his freshman season. He stayed motivated and still worked as hard as he could through his injury. He stated that while being injured he did everything he could to still become a better athlete. He continuously watched and studied film. Specifics that he had studied through the films were body language and facial expressions.
"My injury was a blessing in disguise, because I don't think I would've made the mental jumps I would've if I was in the sport," Carroll said. "This injury allowed me to sit back and take a seat almost in third person" Carroll said.
Carroll was excited to be back on the mat working on his skill. Carroll saw this tournament as a test to see how he has grown over the course of his injury, which he succeeded by winning his Elite Championship.
"The hardest part coming back from an injury is just simply trusting your injury and that it will be stable," Carroll said. "I think the second hardest part is slowly stepping into it. When you're out for a long period of time you just wanna go go go when you come back, you can't you have to ease yourself into it"
Due to the fact that Carroll is only a sophomore, he is unable to receive offers from colleges, though many colleges have been in contact with his coaches. So far, these colleges include West Point, Duke, Penn, Columbia, Michigan, Wisconsin, Oregon State, Fresno State, Purdue, North Carolina, Campbell, North Dakota State, and George Mason. Though none are Carroll's dream school. He has always dreamed of being an Iowa Hawkeye.
"Iowa has the mentality, the legacy, and everything I need to be a world champion," Carroll said.
Kingsmen teammate Brayden McMillen said that Carroll sets the gold standard with his work ethic.
"Christian has become a great wrestler, especially in high school," McMillen said. "His work ethic on and off the mat is like no other. I see him winning at least one state championship. He'll definitely go wrestle in college and I am hoping to see that he wrestles internationally."