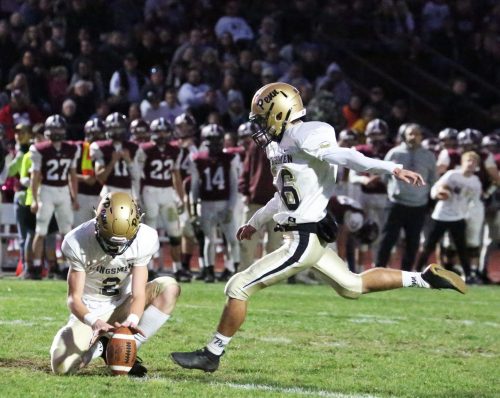 On the first day of the 2019-2020 school year, Penn Football Linebacker/Running Back Lucas Small was talking with another Senior, Tommy Castline, about the Kingsmen Football Team.
Castline played Soccer, but decided that a series of injuries hindered his ability to play the sport at a high level. Although Castline has a profound love for playing sports, he walked away from high school athletics after his Sophomore Soccer season since he couldn't unleash his speed for extended periods of time on the field. 
Small mentioned that the Kingsmen kicker was hurt, and asked if Castline was interested in trying out for the team. After some further conversation, Small had a suggestion for Castline:
"I told him to go to Mary Frank School and try kicking some field goals, and send me a video," Small recalled. "I said, 'If you bang a 45-yarder, let me know and I'll talk to coach Cory (Yeoman).'
Castline went to Mary Frank School, and had his father record video to send to Small.
"He sent me a video of him drilling a 45-yarder, right up the middle, a perfect kick," Small said. "I saw him at school and I said, 'Let's go tell Coach Cory, right now."
Since joining the Football Team, Castline's numbers have been impressive. He averages 52.6 yards a kickoff, has three field goals (the longest 35 yards) and 18 point-after kicks.
Penn undoubtedly found its clutch kicker for this season. Castline's kicking has been an important factor in Penn winning five of its last six games and earning a share of the Northern Indiana Conference Championship. His point-after touchdown kicks were the different in a 21-19 victory against No. 10 Elkhart Central. His two field goals and extra point were the margin of victory in Penn's first playoff game, a 13-6 decision against Portage.
"The thought of playing on the football team had been brewing for a while, and I was pushed by Lucas Small to go out and see what I could do on the first day of school," Castline said. "Lucas talked to a few of the football coaches for me and we figured things out from there."
Castline finally made a decision to join the team on August 28, 2019, but wasn't eligible until he put in the state-required 10 practices. Castline was finally able to suit up for the game against St. Xavier on Sept. 13.
From the moment Castline stepped on the football field, there was no doubt in anyone's mind that he would take over the kicking duties.
Castline unleashed a booming kick that soared into the end zone on his first kickoff. Working with working with the starting kicker from the 2018 season who was now out with injury, Ryan Majerek, Castline's talents developed quickly. According to Castline, Majerek played a big role in helping transform Castline's talented Soccer leg to Football kicking skills.
"We knew right away that Tommy had a strong leg, and we also knew that he was capable of starting for us," Penn Special Teams Coach Pete Riordan said. "Ryan Majerek was the first one to express interest in helping him, so he did and Tommy made big strides because of it."
After a few practices, it became clear to the coaches that Castline was going to be the Kingsmen kicker as he became more consistent.
"The biggest thing about kicking for me has been to not overthink what I am doing and just kicking like nobody is around," Castline said.
"For me, the most important goal is to keep cheering on my teammates and encouraging them to continue getting better," Castline said.
Castline acknowledged his love for his new sport and the support he has gotten from his family and friends.
"It has been amazing," Castline said of his Football experience. "I love everything about the team and the family I have been brought into. Everybody has been incredibly supportive and has helped me out with so much. I'm enjoying every bit of it."
From injured soccer player to Penn's clutch kicker, Castline has reminded everyone who has watched him excel to never give up on playing sports at Penn, because there are lots of opportunities to stretch yourself and to, maybe, try sports that you never thought about trying before.
In Castline's case, he found an opportunity to play a sport that fit his skill set.
His is a story of not giving up, and working hard to carve out the experience of a lifetime.