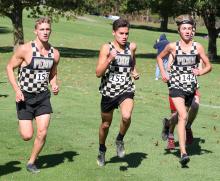 The Penn Boys Cross Country Team won the 18th Regional Championship in Program history on Saturday, Oct. 19. The Kingsmen Girls Team placed second in the Girls Regional.
The Kingsmen Boys Cross Country Team came in first place, scoring 61. They were followed by Goshen (79), Northridge (106), Mishawaka (115), and NorthWood (155). Four of the runners who contributed to the score placed among the top 20. Mariano Retzloff came in second with a time of 16:14. Ben Boardley placed eighth and ran a time of 16:47. Joshua Temeles and Carter Kaser both ran the course in the time of 17:01. They placed 18th and 19th respectively.
The Girls Cross Country Team fought hard against first-place Northridge. The Raiders had a score of 34 and Penn scored 53. They were followed by Mishawaka (122), Elkhart Central (137), and Fairfield (149). There were three Penn runners who placed within the top 20. Brooke Neal came in strong for the Kingsmen as she placed second with a time of 19:08. Morgan Gannon finished in seventh with a time of 20:04, and Mackenzie Holland placed 15th with a time of 20:32.