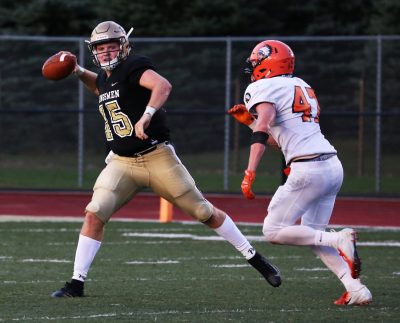 Anyone who is a fan of football knows that the quarterback is the most important position on the field. He has to be on the same page with his receivers, has to memorize all of the offensive plays, but most importantly, he has to know what the defense is giving him so that he can make the correct reads and ultimately lead his team on scoring drives.
When Penn lost starting quarterback in the second game of the 2019 season Ron Powlus III to injury, the Kingsmen lost their best game manager and leader on the field. Powlus suffered a tear in his lisfranc, a ligament in the foot, and suffered a break in his first metatarsal, a bone in the foot.
  With Powlus' competitive fire and spirit of the game, he was initially crushed to hear that he wouldn't be able to play for the rest of the season.
"I can remember everything about when the doctor told me I would be out for at least a year," Powlus said. "It was incredibly defeating."
Penn went 4-3 in the rest of their games without Powlus, finishing co-champions of the NIC North Division with New Prairie. The Kingsmen lost in the Sectional Championship game to Warsaw.
Although Powlus couldn't improve his game on the field that season, he took time through the rehab process and through watching the game on the sidelines to grow off the field. Growing as a student of the game and raising his Football IQ has Penn in a position to make a deep run in the playoffs this season.
This wasn't the first time Ron had faced adversity, as he was diagnosed with Type 1 Diabetes at the age of 9. He was ready to take on the rehab process even if it was difficult.
"The rehab process was slow," Powlus said. "I wasn't able to do anything to physically strengthen my foot until five months were up. The wait to start rehab was also maddening, but I kept my head down and just stayed focused on being healthy for whenever I was able to return."
Ads far as learning from the sideline goes, during last season Powlus gained a new perspective of football that he had never gotten before.
"From my time on the sideline, I learned a lot about playing a game from the outside and not just on offense," Powlus explained.  "I worked to pay attention to the time left in the game, timeouts, and what the other team was doing. I just tried to study the game from an outside perspective and not just as a quarterback."
The most important aspect of getting through difficult times in life is the support system you have around you, and Powlus had tremendous support. He said that his family was his main support group, especially his dad, Ron Powlus, who was the starting quarterback at Notre Dame from 1994-1997.
"My parents and brother did a huge part in helping keep my sanity through this injury," Powlus said. 
 At the end of this process, Powlus was able to improve himself as a football player and as a person. Instead of having a defeating attitude, like his initial reaction, Powlus decided to take the injury in stride.
"I learned more about studying the game," he explained. "Through this injury, I have learned to be more patient than I ever thought possible. I would not wish this injury on my worst enemy, as it is a very slow and long process to heal and just simply waiting."
With Powlus healthy in 2020, Penn will take a three-game winning streak into the playoffs. Penn is 5-4.
Kingsmen teammate Nate Ehmer said that Powlus has been a great leader for the team.
"(Ron) has faced a lot of adversity and he is highly respected for how he has handled it," Ehmer said. "There isn't a person on the team who doesn't believe in Ronnie, and everyone listens to him as a leader."
Powlus, like any other Penn athlete, has his own goals for the rest of the 2020 season.
"My goal for this season is to enjoy my last season playing high school football," Powlus said. "My team goals are for us not to be forgotten and lost in the year 2020 and COVID."