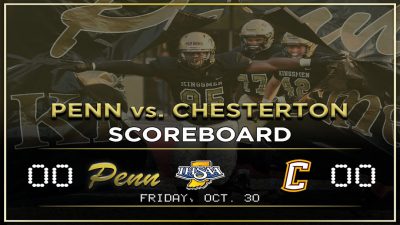 Penn Football opens up sectional action this Friday, Oct. 30, as the Kingsmen travel to Chesterton to take on the Trojans. Kickoff is set for 7:30 ET. the Kingsmen are 5-4, and Chesterton is 4-4.
Penn rolls into the first round of the IHSAA Class 6-A Football State Tournament riding a three-game winning streak, beating its last three opponents by an average of over 35 points. Chesterton returns to action following a disappointing 34-10 home loss to Duneland Conference Champion Merrillville.
Junior quarterback Chris Mullen leads the charge for Chesterton, with a season total of 102 completions for 1,395 yards, which placed first and second in the conference. He has found reliable targets in his fellow Class of 2022 teammates, wide receivers Colby Bullock and Jackson Westmoreland. Bullock is averaging 116 total yards per game while Westmoreland has hauled in five of Mullen's nine touchdown passes. Chesterton runs a lot of four and five-receiver formations and makes it a point to help scheme its players open, using multiple level concepts to stretch the safety out of position, running pick plays, etc. Penn's secondary will have to be very spatially aware on the back end if they don't want to accidentally leave a man open downfield. The Penn defensive secondary has been impactful so far this season, forcing 12 interceptions to only nine touchdowns surrendered (seven of those nine came in Penn's two hardest matchups).
Chesterton's offensive line struggled mightily against Merrillville to hold up in pass protection. Mullen was pressured on 28 of his 57 dropbacks and was sacked on eight other occasions. Penn isn't usually a team that is seen dialing up too many blitzes, but the Kingsmen do pretty well for themselves while rushing four. Penn has four defensive linemen leading the team in pressures: Brendan Arendt (9), Owen Wiseman (7), Josiah Williams (5), and Joe Apata (4).
Mullen is also a major threat on the ground, having racked up a team-leading eight rushing touchdowns on the year. No running back has more than two. As the Penn defensive line shines in the passing game, the Penn linebackers shine in the run game. Three of the four leaders in tackles for loss come from the linebacker core. Senior Zack Messer leads the team with seven, sophomore Ryan Treber has five, and junior Michael Paquette has four. Deven Ritchie also contributes heavily against opponents' rushing attacks with 59 total tackles this year.
Penn's offense has gotten into its groove the past few weeks, putting up an impressive 49, 42, and 53 points in their last three games (for an average of 48 points per game) after clearing 30 points only once previously all season. Quarterback Ron Powlus' downfield passing has become extremely efficient, as explosive plays have begun to roll in for the Kingsmen. He now has nearly 1,300 yards passing and 12 touchdown passes on the year. His performance has been helped by improved play from his receivers. After the last game, the Kingsmen now boast two 400-yard receivers, Nick Favilla and Carson Mumaw. That duo has also combined for 60 receptions and nine touchdown catches.
On Chesterton's end, their linebackers are very active in the passing game, picking up three of the team's five interceptions on the season. However, no one on the team has recorded a pass breakup this season, so there are some questions to be raised about if Chesterton can get to the catch point in the secondary. That hasn't been a huge area of concern for them so far, however, as they have held Hobart, Pioneer, and Lake Central to under 40 yards passing, and also Portage to under 90. They also have very good size, as their starting cornerbacks, Brant Westphal and Patrick Mclaughlin, are 6-foot-1 and 6-foot-3 respectively.
Despite the passing game's improvements, the running game still seems to be what has been mostly carrying the Kingsmen thus far. Penn has two rushers with over 100 carries on the year. Those running backs, Kyle Riffel and Alec Hardrict each have amassed over 575 yards and have 19 total touchdowns between them, including Hardrict's kick return touchdown on special teams and Riffel's receiving touchdown. Also, even though his receiving stats aren't as impressive as others (4 catches for 48 yards), Casey Shultz has been vital to Penn's success this year and has contributed greatly to the run game as an H-back and tight end.
Penn's offensive line has been reshuffled all year and this week is no different as they welcome a new starting tackle, the 6-foot-5, 210-pound Matt Sastre. Sastre has played multiple positions this year, including tight end and along the defensive line, but he seems to have found a nice role at tackle. He will join guards Oscar Lauer and Joe Hawley, center Eric Meeks, and tackle Brock Donati up front this Friday. Despite all of the turnover, the group has flashed a lot of their potential, especially in the running game where they have been mauling opponents in the trenches.
On the other side of the ball, they will be facing a unit that thrives in the backfield. Senior defensive end Jackson Fleming leads the Trojans and is second in the conference in sacks, with four. He also leads the team with nine tackles for loss. His partner on the line Jordan Hughes has six tackles for loss and 23 total tackles. Junior standout Dane Snemis has been an asset for the Trojans at strong safety, racking up 36 solo tackles and 25 assists. Ethan Troy has been the one to solidify the middle of the Trojan defense this season, in both facets of the game, accounting for two of the interceptions noted earlier and also 34 tackles from his linebacker spot, to go along with 2 tackles for loss.
Ever since the playoff bracket expanded in 1985, Penn is the only team in the state to have never lost in the opening round of the tournament. Chesterton will need to put together a crisp attack on offense and bring a lot of defensive energy as they look to make history on their home field Friday.