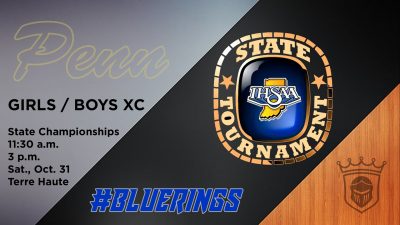 The Penn Boys and Girls Cross Country teams each qualified for State Championship Meet on Saturday, Oct. 31, 2020, in Terre Haute. The Girls race starts at 11:30 a.m. on the LaVern Gibson Cross Country Course, and the Boys race starts at 3 p.m. on the same course. Tickets are $10 each, and pay per view on ihsaatv.org is $14.95.
Click here for more details about the State Championship Meet.
The Penn Girls placed fifth at the semi-state meet. The top runners for Penn were: 14. Julie Smith 19:16.3, 36. Mary Eubank 20:01.9, 40. Ava Gillis 20:09.0, 58. Morgan Gannon 20:27.7, 71. Nicole Marshall 20:44.4, 74. Ellie Stabnik 20:47.1, 77. Haley Makowski 20:51.4. The girls had some breakout performances from Julie Smith, Mary Eubank, and Ava Gillis.
"I'm excited about the State meet this weekend," Penn Girls Cross Country Head Coach Michael Clements said. "For our varsity, it's the culmination of months and years of work. Last weekend at Semi-State, while we had a couple stand out individual performances, as a team we actually ran our worst race of the season.  But that gives me two things to get pumped up about: 1.) I know that our ladies are fired up to get some redemption on the biggest stage, and  2.) for us to be a State level team even on our worst day tells me we have a chance to do something pretty special next weekend.
"We came into this season unranked, so to be in the conversation to be a top 10 or top 5 kind of team racing on the last day of the season has made me incredibly proud of these young women and all the hard work they put in."
The Penn Boys team placed sixth in the semi-state meet. The top runners for the Penn Boys in this meet were: 2. Mariano Retzloff 15:34.5, 35. Dillon Pottschmidt 16:38.2, 47. Ben Boardley 16:46.9, 73. Jason Juarez 17:09.9, 88. Nick Probst 17:17.2, 96. Carter Kaser 17:29.4, 131. Caleb Evans 17:48.8. Many runners ran a season-best time with multiple getting a lifetime PR.
As the boys look toward competing for a state title, coach Thomas Miller said, "The boys have prepared very well to race in the state meet. They are racing at their best at the right time of the season. The boys need to build on the great team efforts of the past two weeks. I think they are prepared for a top 20 team finish, and some season best performances."