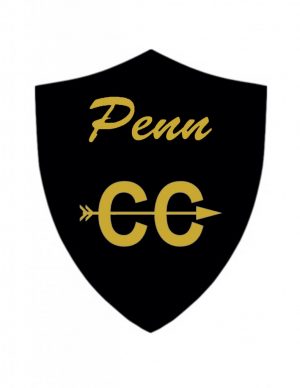 With the tournament season quickly advancing for Penn's cross country teams, it's important to recognize the young men and women in their successes, not just individually, but as team too.
Saturday, October 3, marked the end of the regular season for the Kingsmen XC teams with the NIC championships. With Penn's teams competing against 10 other teams in the conference, the student-athletes both brought home championship titles for the Kingsmen.
In the girls' race, Penn packed in positions 3-7 on the First Team All-Conference. Leading for the Kingsmen was Junior Julie Smith in a time of 19:31.81. Right on her back with a times of 19:38 was Senior Nicole Marshall and Junior Morgan Gannon. Thereafter, the 4 and 5 spots for the Kingsmen were owned by Senior Ava Gillis and Freshman Mary Eubank with times 20:03.77 and 20:05.93. Rounding out the dominant Kingsmen's top 7 was Freshman Ellie Stabnik in 20:37.87, and Senior Haley Makowski with a time of 20:42.69.
First Team All-Conference was awarded to Julie Smith, Nicole Marshall, Morgan Gannon, Ava Gillis, and Mary Eubank. Honorable Mention was awarded to Ellie Stabnik and Haley Makowski.
With such a dominant performance, head coach Michael Clements was awarded NIC girls coach of the year for all his hard work with this group of talented individuals.
In the boys' race, the Kingsmen had four out of the top seven on First-Team All-Conference, with three honorable mentions.
Leading the Kingsmen was Junior Mariano Retzloff with a comfortable time of 16:20.94, followed by Senior captain Dillon Pottschmidt in 16:32.84. Rounding out the Kingmen's four First-Team All-Conference members were Senior Captain Benjamin Boardley and Junior Carter Kaser with times of 16:53.92 and 16:55.68.
Honorable Mentions for the Kingsmen were awarded to Sophomore Jason Juarez with a time of 17:20.23, Sophomore Nick Probst in 17:34.29, and Senior Caleb Evans with a time of 17:43.38.
With such a standout season and performance at the NIC Championships, Junior Mariano Retzloff of the Kingsmen was awarded NIC MVP for the season.
Congratulations to all the Kingsmen XC athletes for their hard work and and achieved titles this regular season.