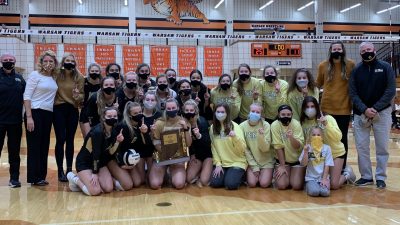 Penn High's Kingsmen battled through adversity to capture the 2020 Warsaw Sectional Championship, defeating host Warsaw, 19-25, 26-24, 25-19, 25-11, on Saturday, Oct. 17, 2020.
Penn defeated Northridge, 25-12, 25-15, 25-15.
The Kingsmen advance to the LaPorte Regional on Saturday, Oct. 24. The Kingsmen play Crown Point at 1 p.m. ET. The Championship game is set for 7:30 p.m. ET.
Penn battled without All-Star candidate Addy Kois, a Valparaiso University commit, who is sidelined with an injury. The Kingsmen fought back from a first-set loss in the championship game, and held off Warsaw in a fierce 26-24 second set to avoid a 0-2 deficit in sets. The Kingsmen then took command to take the third and fourth sets.
"The true sign of a team is coming together when the going gets tough," Penn Volleyball head coach Lisa Pawlik said. "The loss of Addy was a big one, but her addition to helping Macy (Hatkevich) has been invaluable in knowledge, energy, and excitement.
"The team grew up in the sectional and used our positive culture to give back to each other and support one another.  It was so exciting to see our "well-oiled machine" and the competitive edge push us to victory."
Penn advances to the LaPorte Regional to play Crown Point at 1 p.m. ET on Saturday, Oct. 24. The Championship is set for 7:30 p.m. ET on Saturday, Oct. 24.
Penn beat Warsaw, 19-25, 26-24, 25-19, 25-11
Kingsmen leaders:
Emma Hickey  14 Kills, 17 Digs
Cadence McGlothlen  11 Digs
Janet Moala 13 Kills, 2 Blocks
Macy Hatkevich 2 Aces, 8 Kills, 46 Assists
Macy Sherman  7 Kills, 2 Blocks
Lauren Baker 10 Kills
Whitney Zarazee 11 Digs
Penn beat Northridge, 25-12, 25-15, 25-15
Kingsmen leaders:
Emma Hickey 14 Kills, 16 Digs
Cadence McGlothlen 10 Digs
Whitney Zarazee  11 Digs, 3 Aces
Macy Hatkevich 3 Kills, 36 Assists
Taylor Hostetler 7 Kills, 10 Digs
Kristin Garrage 2 Aces
Lauren Baker 6 Kills
Janet Moala 8 Kills, 2 Blocks