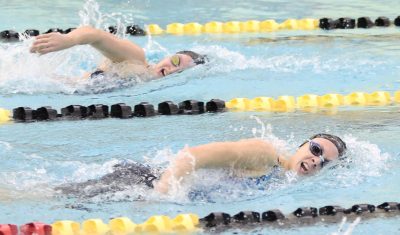 Penn's Boys and Girls Swim Teams dominated Northern Indiana Conference action against South Bend Adams on Tuesday, Jan. 9.
The Penn Boys Swim Team beat Adams 151-33. The Kingsmen Boys improved to 8-0 in the NIC with the victory.
The Penn Girls Swim Team beat Adams 141-39. The Kingsmen Girls improved to 9-0 in the NIC.
Evan Dies led the Kingsmen with three blue ribbons.
Matt Rach,  Aaron Dies,  Kyle Brothers,  Ethan Backhus,  Michael Adami and Lucas Evans placed first in two events each.
Joel Cummins, Matthew Pruitt, Troy Weber, Blake Trowbridge and Joseph Ferraro earned one blue ribbon each.
Sharon Ni was a winner in three events to lead the Penn Girls.
Makenna Bottorff,  Sophia Darr and Caroline Marks placed first in two events each.
Winning one event each were Maddie Ziegert, Lizzy Mejia, Charlotte White, Isabella Costa, Gabby Costa, Bailey Betzer, Megan Rach, Mackenzie Richards, Sydney Acito, Abby Meckstroth, Alyssa Richards, Logan Koszyk.
Here are the complete results: