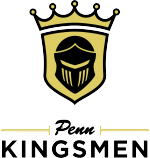 Penn's Noah Applegate scored 22 points but the Valparaiso Vikings prevailed for a 76-61 victory in Boys Basketball action on Saturday, Jan. 6.
The Kingsmen trailed 40-27 at halftime, but fought back to close to 52-47 at the end of the third quarter.
Beau Ludwick's buzzer-beater 3 allowed the Kingsmen to cut the deficit to five points entering the fourth
quarter.
Penn (6-2) hosts Glenn on Thursday, Jan. 11.
Drew Lutz scored 18 points and passed for nine assists.
Beau Ludwick contributed 5 points, 5 rebounds and 5 assists to the Kingsmen effort.
Kegan Hoskins scored 8 points.