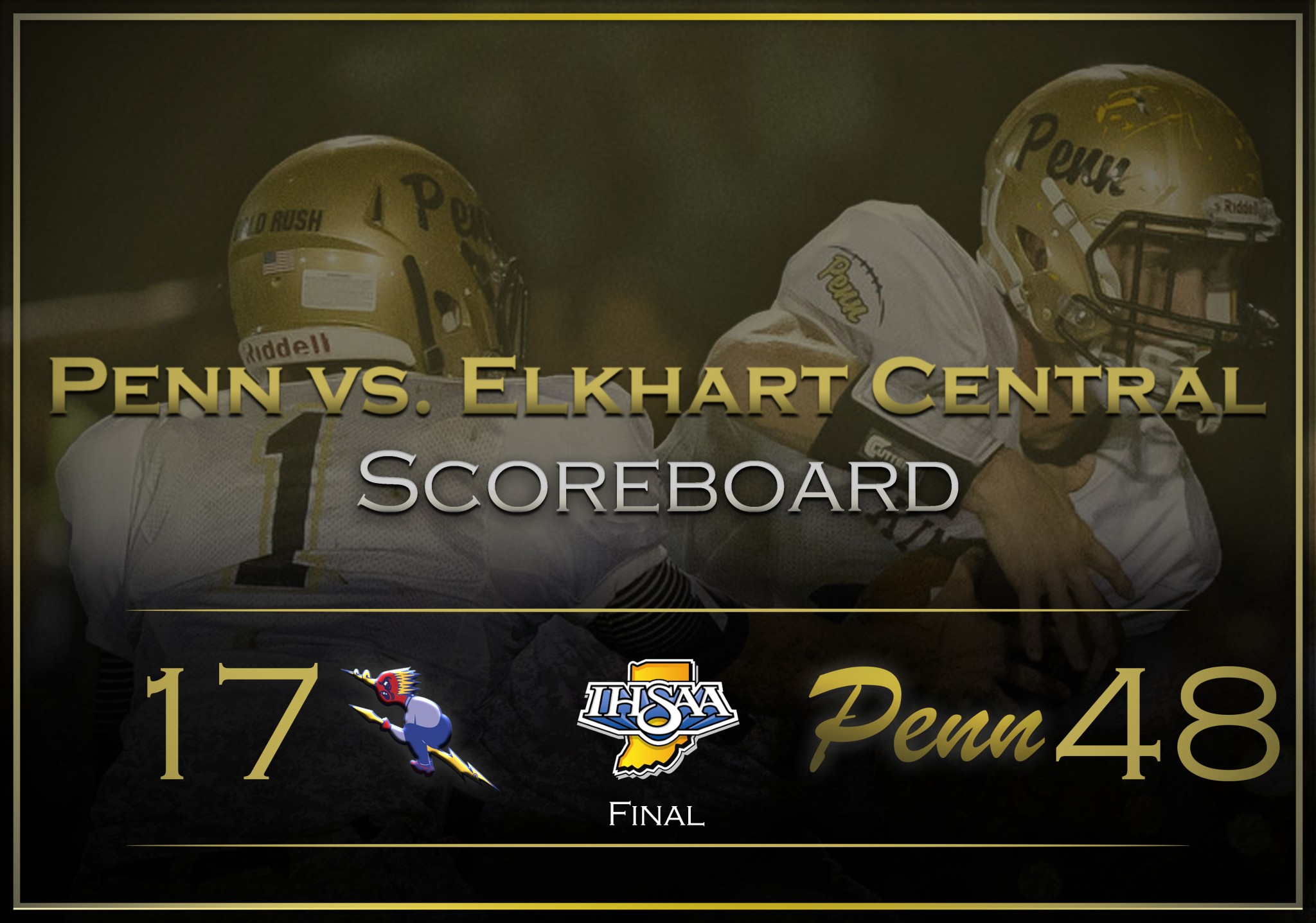 Penn High School senior running back Landon Martz slashed through the Elkhart Central defense for three touchdowns, and the Kingsmen special teams added two more touchdowns as No. 2-ranked Penn rolled to a 48-17 victory against Elkhart Central in high school football action on Friday, Oct. 7.
Coach Cory Yeoman's Kingsmen own an 8-0 record, including a 4-0 record in the Northern Indiana Conference North Division. Penn hosts Mishawaka (7-1, 4-0) for the NIC North crown on Friday, Oct. 14.
Martz scored Penn's first three touchdowns as the Kingsmen scored to a 20-0 lead. The 6-foot-3, 195 pound senior scored on runs of 1, 5 and 13 yards.
Martz finished with 130 yards on nine carries. He had a stunning 58-yard run that featured an electrifying change-of-direction to set up his 13-yard TD run. Martz averaged 14.4 yards a carry.
Here's an interview with Landon Martz:
Rashid Maclin ran the ball five times for 69 yards, gaining an average of 13.8 yards a carry.
Penn Coach Cory Yeoman credited Martz with jump-starting the Kingsmen offense.
"I think Landon gave us a huge spark," Yeoman said. "He runs the ball extremely hard. He did a great job of picking up blitzes and pass protection."
Yeoman said that the return of offensive lineman Carrington Neal and Daniel Yu helped the Kingsmen Gold Rush offense.
"It was good to see Carrington Neal back on the offensive line, and Daniel Yu got back in the game," Yeoman said. "They had great games. It was good to see them back on the line."
Penn quarterback James Iapalucci was 10-of-14 passing for 141 yards and two TD strikes.
Matt Kominkiewicz scored two touchdowns, one a 20-yard TD reception from Iapalucci, and a brilliant 90-yard kickoff return.
"Matt made plays offensively and he made plays on special teams, made huge plays," Yeoman said.
Zach Usenick scored on a 15-yard TD pass, spinning away from the Elkhart Central defense and sprinting into the end zone for the score.
Usenick had four receptions for 46 yards.
"Zach runs good routes and he catches the ball extremely well," Yeoman said. "When you know a guy is going to be where he's supposed to be and he can catch the ball, that's a nice guy to look for."
Caden Paquette scored a touchdown on a 5-yard return of a fumble caused by Paul Moala on a kickoff.
Penn has scored six special teams touchdowns in its last two games.
"Coach (Brian) Griman's kickoff special teams did a great job of stripping the ball and getting a touchdown, and coach (Dave) Manspeaker's kickoff return team did a great job of putting a touchdown up there," Yeoman said. "That's a big plus for us."
Penn led 13-0 in the second quarter when there was a scoring explosion.
Martz's 13-yard TD made it 20-0 with 3:17 left in the second quarter.
Penn and Elkhart Central then combined for a furious five-touchdown flurry in a span of 1:17 — the final 1:04 of the first half, and the first :13 of the second half.
The scoring flurry started when Iapalucci connected with Usenick for the 15-yard TD pass with 1:04 left.
On the kickoff, Moala stripped the ball that Paquette turned into a five-yard scoop-and-score with :56 left.
Elkhart Central's Ross Kirkton hit J.T. Webb for an 89-yard TD pass with :38 left.
Penn quickly marched down the field and scored with :03 left in the second quarter on Iapalucci's 20-yard TD pass to Kominkiewicz.
The Kingsmen then opened the third quarter with Kominkiewicz's 90-yard kickoff return for a TD at the 11:47 mark.