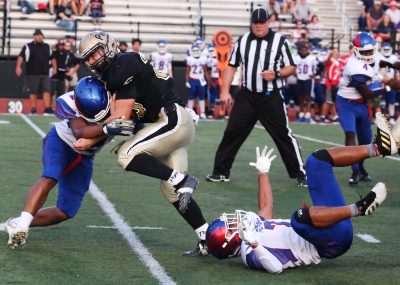 Junior Running back Kyle Riffel has an unmatched work ethic that translates on and off the field. Riffel goes from playing running back in the fall to pitching for the baseball team in the spring. He hits it just as hard in the classroom, owning a 3.9 grade-point average.
Riffel's work ethic is respected by his teammates.
"He's someone who leads by example," Penn tight end Casey Shultz said.
Summer is usually a time of relaxation for most high schoolers, but Riffel's summers are packed with baseball tournaments and summer workouts.
"It's always busy and goes by fast every year" Riffel said.
Managing one sport at Penn is hard enough, but enduring Indiana's hot summers and going directly from baseball to throwing on a set of football pads is a challenge only a select group of athletes are up for.
When asked about flipping the switch from a baseball mindset to a football one, Kyle said the speed training and sense of teamwork are huge components of both sports.
"Every man has to do their job if we want to be successful," Riffel said.
When it comes to playing the position of running back, Riffel's running style is that of a downhill runner and a bruiser. He is able to mentally and physically wear down the opposing defense with consistently hard runs.
Being a single defender going up against Riffel is a challenge. You'll often see a swarm of defenders all working to stop his legs from pumping and hopefully wrestle him to the turf. This isn't by mistake either, Riffel stated that his style of play is inspired by the former Chicago Bears' great Walter Payton.
After high school, Riffel hopes to attend college whether that be on a scholarship or as a regular student.