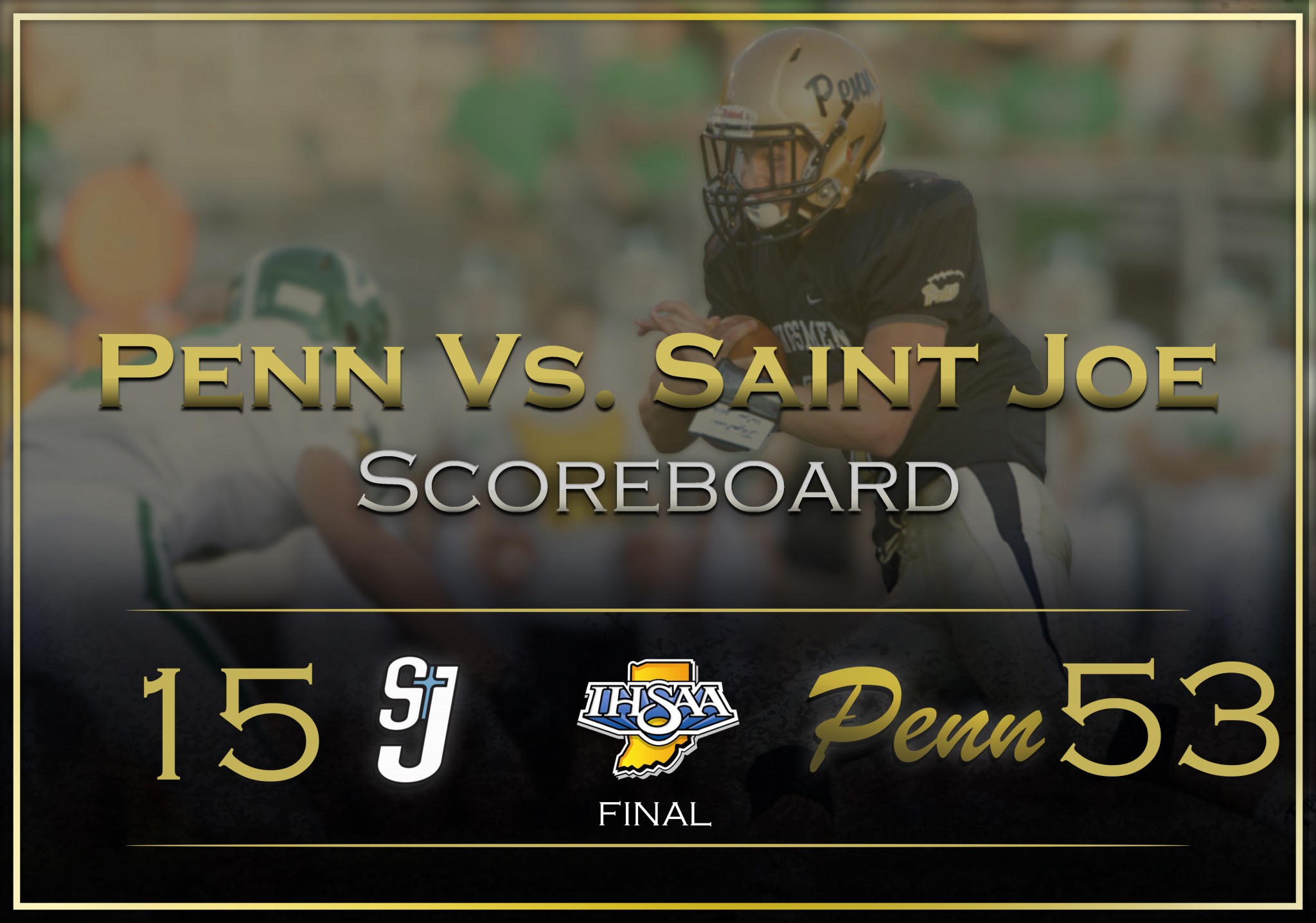 Senior playmaker Matt Kominkiewicz slugged South Bend St. Joseph for 4 touchdowns, and No. 1-ranked Penn overpowered the Indians, 53-15, in high school football action on Friday, Sept. 23.
Penn improved to 6-0. The Kingsmen host South Bend Clay on Friday, Sept. 30, in Penn's Homecoming Game.
Kominkiewicz raced 63 yards on a punt return in the first quarter that gave Penn a 14-0 lead. The 5-foot-8, 165-pound speedster then broke loose for touchdowns of 22 yards, 8 yards and 65 yards after hauling in passes from Kingsmen quarterback James Iapalucci. He dazzled Kingsmen fans with an electrifying change-of-direction that helped him slice through the St. Joe defense on his 65-yard TD.
Here is an interview with Matt Kominkiewicz:
Kominkiewicz finished with four catches for 111 yards.
Penn quarterback James Iapalucci was 9-of-12 passing for 195 yards and three TD strikes.
Iapalucci directed the Kingsmen offense to its sixth consecutive game without a turnover.
Penn only needed one play to put six points on the scoreboard.
Rashid Maclin blasted through the Indians for a 55-yard TD on Penn's first play from scrimmage.
Andy Doty also burned the Indians with his speed, sprinting 36 yards for a TD in the third quarter.
Freshman quarterback Ryan Lynch unleashed an 86-yard TD run.
Colin Wilson intercepted a pass and returned it 35 yards to the St. Joe 1.
Jeffrey Pawlik then bulldozed into the end zone for the final Kingsmen score.
Penn piled up 481 yards of total offense, while the 'Wild Bunch' defense held St. Joseph to 99 yards of total offense.
Connor Schneider, Nate Boone, James Morris, Keegan Hurst, Will Vakalahi and Peni Vakalahi were all in on multiple tackles for loss for the Kingsmen.
Brendan Keough recovered a fumble for the Kingsmen.
St. Joseph     8          0          7          0 – 15
Penn              27        14        6          6 – 53
P – Rashid Maclin 55 run (Jared Hancock kick).
P – Matt Kominkiewicz 63 punt return (Hancock kick).
P – Kominkiewicz 22 pass from James Iapalucci (Hancock kick).
SJ – Courtney Rowell 91 kickoff return (Issac Romans pass from Ashton Ruszkowski).
P – Kominkiewicz 8 pass from Iapalucci (kick blocked).
P – Andy Doty 36 run (Hancock kick).
P – Kominkiewicz 65 pass from Iapalucci (Hancock kick).
SJ – Sean Ratigan 19 pass from Ruszkowski (Andrew Han kick).
P – Ryan Lynch 86 run (kick blocked).
P — Jeffrey Pawlik 1 run (kick missed).
Penn              St. Joe
First downs                           15                    8
Yards rushing                       277                 12
Yards passing                      204                 87
Passing                                 10-13-0          10-23-1
Fumbles                                0                      1
Punting                                  1-45                8-36
Penalties                               57                    15