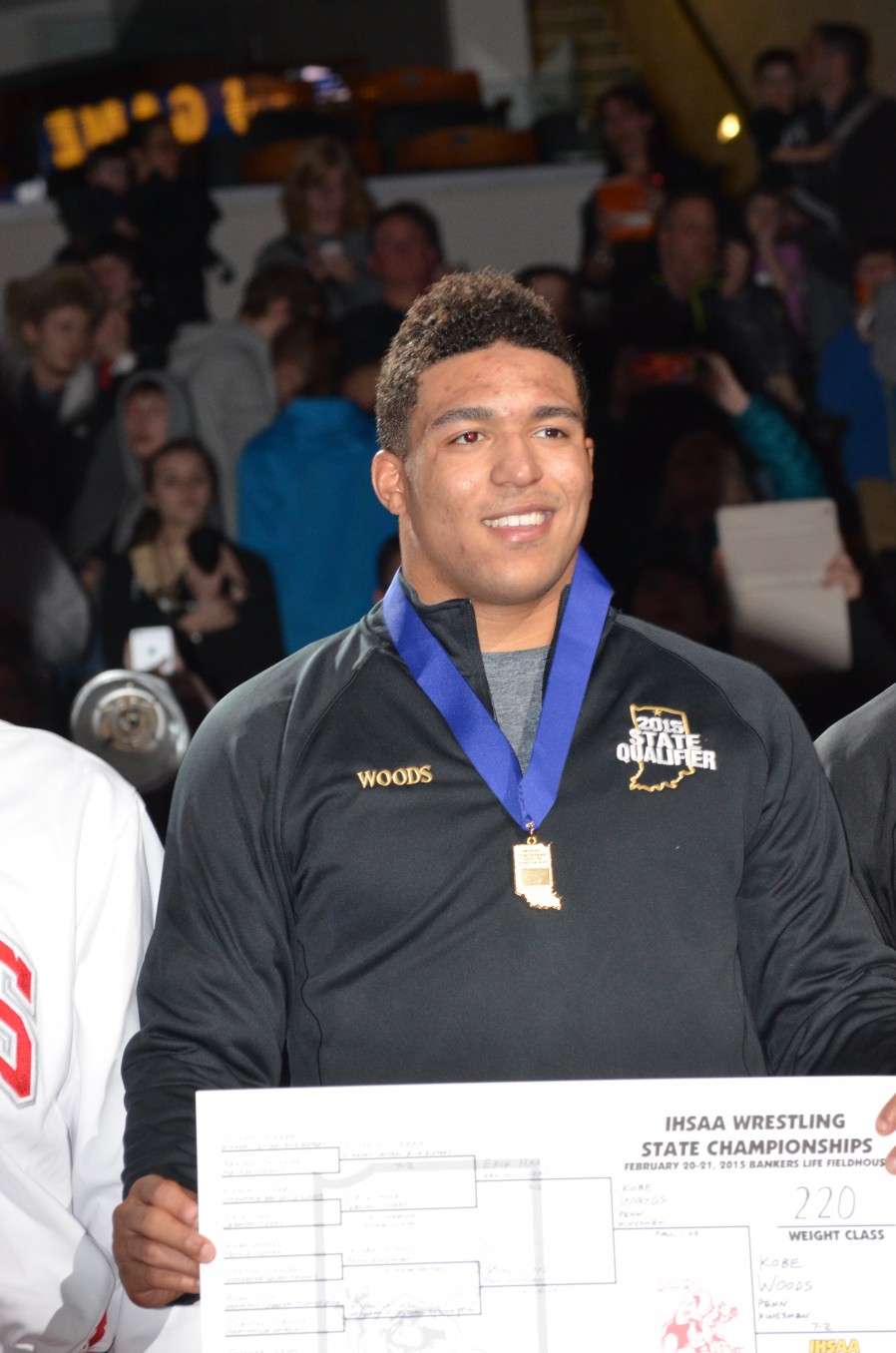 By MASON PLUMMER
Penn star wrestler Kobe Woods is on his way to making school history here at Penn High School.
Boasting a win streak that is now over 75 straight entering the semistate, Woods is one of the best wrestlers in Penn's legendary history. Last season, he won a state title at 220 pounds. He is one of only five wrestlers in Penn history to be a 3-time regional champion.
Pretty astounding, but Kobe is everything but content with what he has accomplished so far, saying "I want to Penn's first back-to-back state-champion, and that is motivation for me to keep working hard and pushing myself."
Kobe is very proud to be the school's first individual state champion in over 40 years, along with his former teammate Chase Osborn. He accomplished this last year.
Kobe is very much a team-centered kind of guy. He spoke about how big it was for Penn to win the team state championship last year, the first in school history.
"For the team, it's huge. We won state for the first time last year with our senior leadership, and I think I can help lead us to another one this year."
Kobe Woods has really put a face on Penn's wrestling program, making it not just a state powerhouse, but a contender for best in the nation. No one can be their best without a great coach, as any athlete knows, and Woods gives a lot of credit to Penn High School wrestling coach, Brad Harper. "Coach Harper has really made me a good wrestler, but has made me an even better person. He cares about winning, but he cares much more about making us into young men. Coach brings a speaker in each and every Friday to give us life talks." This really shows Harper's commitment to making his boys good, all-around people.
Now here are some questions from my interview with star-wrestler Kobe Woods:
Q: "How does it feel to have such a big winning streak? Does it add pressure?
A: "It feels amazing, a real dream come true. Hard work pays off. Yes, there is added pressure, but I try to take it one match at a time.
Q: "Do you have a pre-match meal?"
A: "Subway!"
Q: "Were you a natural wrestler, or did it take a lot of time and work to be where you are now?"
A: "It took a lot of work. Nothing comes easy in life, but the harder you work, the luckier you get."
Q: "Most people know that football is also a big part of your life as you play here at Penn, did you receive offers to play in college?"
A: "Yes, but I chose Purdue because I have the opportunity to play both football and wrestling. But I'm not sure whether I'm going to or not."