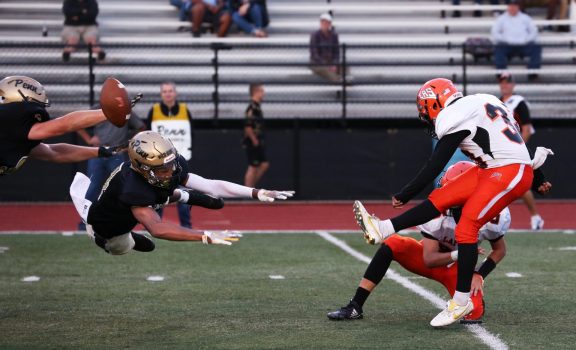 Quarterback Ron Powlus fired off four touchdowns and the Penn Kingsmen rolled to a 33-6 victory against LaPorte on Friday, Aug. 30, in the home opener for the 2019 Football Season.
The Kingsmen set the tone of the game in the first quarter when Patrick Maclin blocked a punt and recovered it for a touchdown.
Powlus then took over as the offense found a rhythm against LaPorte. Powlus hit wide receiver Nick Favilla on a crossing route for 34 yards for the first passing TD, then went to Favilla on a shallow out route for a 14-yard score as Penn built a 21-6 halftime lead.
In the second half, Powlus connected with Carson Mumaw for 20 yards over the middle for his third passing TD, and hit tight end Casey Shultz for a 12-yard score.
The defense played exceptional as well, not allowing LaPorte to score in the second half.