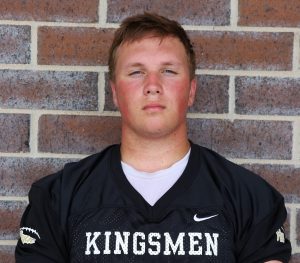 The offensive line is a key point of any team. Without an offensive line, the run game is non-existent and the Quarterback has no time to throw.
Who is in charge of the Offensive Line? The center is. The center is responsible for managing calls on the line and giving blocking assignments. That is just the mental aspect while the physical aspects include snapping the ball and of course blocking effectively.
This season, Penn's Gold Rush Offense features a new center, Number 74, Matt Engdahl (6-foot–0, 260 pounds).
It speaks highly of Engdahl that he has been entrusted to lead the Penn line as a player who is switching to a new position.
"Matt is a very intelligent player," Penn's Offensive Line Coach Brent Laidig said. "Since his Sophomore year, he played multiple positions. If anyone could do it, it's Matt.
Engdahl was a Tackle prior to being a Center. There was plenty to learn.
"It was definitely a little bit of a struggle learning to snap and still do all the things I am responsible, for but I was happy to learn the new position," Engdahl said.
The new center also talked about the steps he took over the summer.
"Over the summer, I made sure I made sure I went to almost every practice and that I was paying attention to what my coach said," Engdahl stated. "Also, I made sure that I asked questions when I didn't understand part of my assignment."
Engdahl sees the position as a new challenge. Coach Laidig said that the position change required a lot of work.
"It's a lot of mental work," Laidig explained. "Learning how to adjust calls and play on the line takes a lot of determination."
The center position is complex. Not only do you have to know what you need to do, but what everyone else is doing. Being a center means you have be physical, but also a good communicator and leader. There are lots of things that go into being a successful leader of an offensive line.
According to Engdahl, "Some key components would be making sure that everyone is accountable no matter who you are and making sure that the criticism is constructive and supportive. Also, making sure that everyone is having fun and enjoying themselves during practice."
Engahl said, "Our seniors are in charge of establishing an environment of hard work and determination. We are responsible for making sure that everyone is doing what they are supposed to do but we also have to make sure that the underclassmen are having fun and feeling welcome."
Even though Engdahl has a lot on his plate it all just comes down to the love of football.
"I have always played Flag Football and Granger Rocket and I really love playing, and so I have stuck with it," Engdahl said. "I love the brotherhood and the friendships that I have made with many of the other teammates and the coaches. I love the fact that we all have to work together to be successful. I also enjoy the taunting and teasing between opponents and even other teammates."
Even though learning the center position is a lot of work and the position isn't always in the spotlight, it is a critically important position. At Penn, players and coaches agree, Matt Engdahl is the guy for the job.