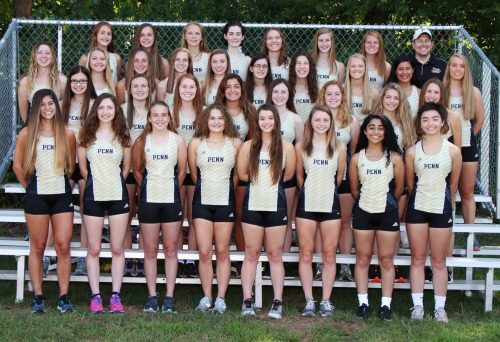 The Penn Girls Cross C0untry Team placed first at the NIC Stomp 11/12 Race at Ox Bow Park on Saturday, Aug. 24, 2019. Penn placed second in the NIC Stomp 9/10 Girls race.
Penn's Boys Cross Country Team placed second in the NIC Stomp Boys 11/12 race, and the Kingsmen were first in the NIC Stomp Boys 9/10 race.
Penn placed five runners in the Top 10 finished with a team score of 25. Chesterton was second in the 10-team race with 56 points.
Brooke Neal led the Kingsmen, placing second overall in a time of 19:57.38.
Haley Makowski placed third in 20:37.65, and Reagan Hoke placed fifth in 20.52.02. Aislynn Alkire ran the 5K course in 20:58.92 for sixth place, and Kayla Edgerly placed ninth in 21:18.84. Katie Casbon was 10th in 21.18.99, and Nicole Marshall places 12th in 21.25.99.
Morgan Gannon led Penn's effort in the Girls 9/10 race with a fourth-place finish in 20:39.26.
Dillon Pottschmidt was Penn's top finisher in the NIC Stomp Boys 11/12 race, running the 5K course in 17:05.58 to earn fifth place. Ben Boardley placed sixth in 17:10.32.
Mariano Retzloff led Penn in the 9/10 NIC Stomp Boys race, placing first in 17:00.83. Carter Kaser placed second in 17:04.37. Jason Juarez was sixth in 17:49.80, and Joey Rutten placed ninth in 18:01.40.