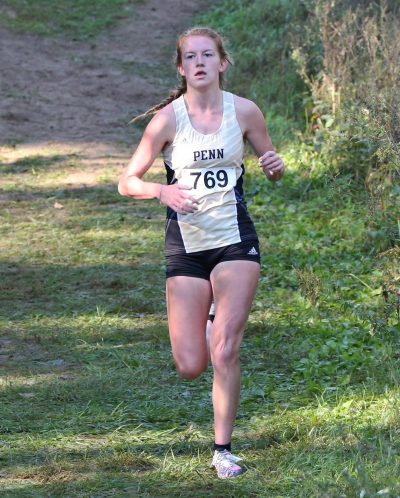 Brooke Neal is taking her competitive talents to another level during her Athletics Fall Senior Season.
Neal, a state finalist in Cross Country, is also playing for the highly ranked Penn Girls Soccer Team.
Neal has had great success in her athletic career. In , her freshman and sophomore years, she was a member of the Kingsmen Girls Soccer Program that won back-to-back state championships. She then took her junior year off from soccer to focus on cross country and track. This year, she has rejoined the girls soccer team her senior year in hopes to win her third state championship.
Her freshman and sophomore year in track she placed first in sectionals for the 1,600-meter run, and in her junior year, she was a member of the 4×800 Relay Team that placed third in the state.
Neal has been involved in soccer since she was just a little girl and that was her main sport all the way up to the eighth grade.  What's when she started her track career and realized how much skill and potential she has in this sport, and then that became her main focus. Her focus and hard work with track paid off by becoming one of the best runners for Penn on the track and cross country team.
After graduating from Penn High School, Neal plans to attend college and continue her athletic career in cross country and track at college, on top of doing sports she would like to work and study on becoming a veterinarian.