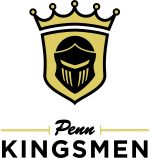 On Saturday, the Penn Kingsmen Cross Country squads ran their way to victory in the Boys Varsity race, the Girls Varsity race, the Boys JV race, and the Girls JV race of the County Clash.  The boys got their first major meet victory of the season, defeating 15 other teams.  The Girls team got their second major meet victory of the season.  The meet featured teams from b0th St. Joseph County, and from Elkhart County.
BOYS VARSITY:  Mariano Retzloff and Joel Gonzalez led the Kingsmen in the varsity race.  Both runners ran the Ox Bow Park course in a time of 16:56.56, with Retzloff finishing in 9th overall and Gonzalez just behind him in 10th.  Noah Cocquyt finished 11th overall in a time of 17:00.93.  Joshua Temeles ran a time of 17:08.60, and finished in 15th.  Jacob Meek came in 22nd overall, running the 5K course in a time of 17:27.76.  Cohl Fox ran a 17:51.02 coming in 33rd overall.  Ben Boardley finished in a time of 19:27.78, placing 77th overall in a race of over 100 runners.
Penn won the boys varsity race by nine points, edging out Elkhart Memorial.
GIRLS VARSITY:  Brooke Neal led the Girls XC team with a strong 4th place finish in a time of 19:25.24.  Aislynn Alkire placed 7th in a time of 20:09.27, followed closely by teammate Haley Makowski who ran a 20:09.95 and came in 8th.  Nourra Miss finished in 15 overall in a time of 20:58.00.  Morgan Gannon finished in a time of 21:15.17, placing 18th overall.  She was followed closely by teammate Mackenzie Holland who finished 19th overall, in a time of 21:15.72.  Anne Loughran came in 27th overall in a time of 21:41.73.
The Kingsmen won the girl's varsity race with a score of 52 coming in 36 points ahead of Mishawaka who finished 2nd with a score of 88.
BOYS JV:  The Boys Junior Varsity was led by Dillon Pottschmidt who finished 2nd overall in a time of 17:38.32.  He was followed by freshman Carter Kaser who finished 3rd overall with a time of 17:47.43.  In 4th place was Jatin Soni who ran the course in 17:55.56.  Josiah Railton came in 5th with a time of 18:03.83.  In 6th place was Joey Rutten who finished with a time of 18:09.00.  Tommy Rzeszutko came in 7th place overall in a time of 18:14.53.  Avery Richardson finished in 9th place out of 181 runners with a finishing time of 18:21.30.
The Kingsmen dominated the boys Junior Varsity race with a near perfect score of 20, defeating second-place Riley by 38 points.
GIRLS JV:  Senior Stella DiMarzio led the Kingsmen by winning the race in 21:32.57.  She was followed by Reagan Hoke who ran a 21:42.53 who finished 2nd overall.  Kayla Edgerly finished in 3rd place overall in 21:46.50.  She was followed by Riley Keppler who finished in 21:58.23 coming in 4th in the race.  In 5th place was Cassidy Cripe who ran a time of 22:04.69.  In 6th place was Katie Casbon who ran a 22:23.70.  Adriana Juarez finished 7th overall in a time of 22:26.70.
Penn dominated the Girls JV race with a perfect score of 15.  Penn had nine runners come in before anyone from any other team.
All of the Kingsmen teams did very well, winning every race at the County Clash as many athletes had season-best times.  This Saturday both Kingsmen teams will compete at the New Prairie Invite, the largest race of the season.