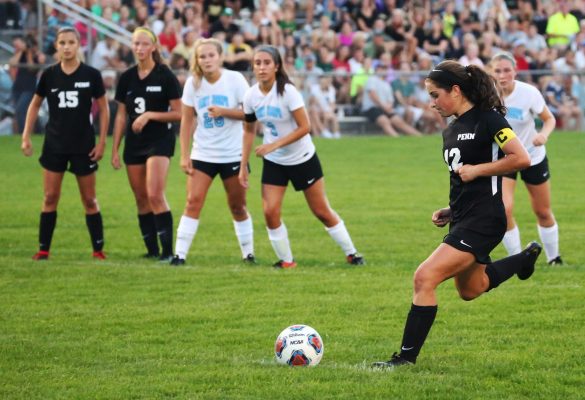 From all accounts Penn Girls Soccer player Maya Lacognoto is a tremendous athlete and an even better person.
Lacognato started on the bench for the Penn Girls Soccer Team her freshman year, but she didn't let that dissuade her.
Now, Lacognato has scored a goal in the State Championship Game two years in a row, and not only has been a key player in two State Championships for Penn, but also a National Championship. She has committed to play collegiately at IUPUI.
Yet Lacognato still is extremely humble about her accomplishments. You'll never hear her brag about what she's done.
Penn Girls Soccer Head Coach Jeff Hart, though, is quick to rave about Lacognato's work ethic and leadership traits.
"She is the leader of the team," said Hart, who particularly appreciated Lacognato's role in helping younger players.
While Lacognato is masterful on the soccer pitch, it is her passion for the team, school, and her community that truly shines through.
Lacognato has played soccer since the age of four. She played for the Junior Irish team in the offseason up until last year. Currently, she plays for Elkhart County United in the offseason. She explained one of her favorite parts of playing here is getting to be the team leader and helping her underclassmen.
Reflecting on her time at Penn, Lacognato remembers the joy that she's experienced in the program, but also the hard work she's put in. Her freshman year she didn't play much. Now, that seems like a distant past. She explained that her hard work in practice and never-say-die attitude is what helped her elevate herself on the roster.
Lacognato looks to follow in the footsteps of former Penn player Kristina Lynch, who starts now as a freshman for No. 2-ranked Florida State.
Lacognato has her eyes set on another State Championship. She received the captain's band this year, and she considers that a tremendous honor. It's an honor that was earned, not given.