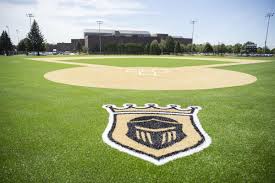 The Penn Baseball and Softball teams both received brand new turf fields this off-season. The new synthetic turf fields have these players and coaches very excited for the upcoming season.
Senior Baseball player and Notre Dame commit Ryan Lynch loves the new turf. Lynch likes the turf as an outfielder because, "the ball is less likely to take bad hops."
Lynch also believes it could give him an edge at the plate. "The ball plays quick, so hitters have a small advantage."
Penn Softball Junior infielder Maddie Calvin also has a great appreciation for the new softball turf.
One of the best things about the turf, Calvin said, is that "it allows us to play in rainy weather, whereas with dirt we would have to cancel."
Another Senior Baseball player, C.J. Kavadas, also advocates for the turf. The Kingsmen third baseman feels that "it makes the game more athletic," and he loves it because "it endures bad weather and it takes away any bad hops or things that could affect the way you play."
Softball Junior softball outfielder, Mary Petras, knows that she will have to make adjustments on the new field, especially with baserunning, but she is up for the challenge
"Sliding is a lot harder to judge, because you have to slide earlier in order to not go past the base," Petras said.
Petras also mentioned the affect it will have on other teams.
"When our competition comes to play us it will give us an advantage, because we will be used to it."
There is a lot of excitement building up this off-season and the Baseball and Softball players can't wait to hit the turf for the 2020 seasons.