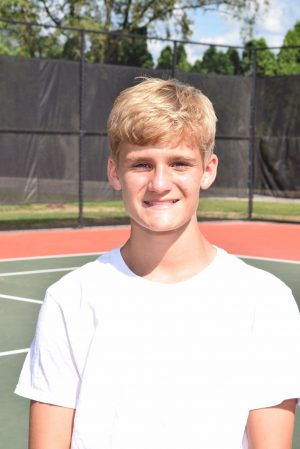 Peter Tiebout is a Junior on the Penn Boys Tennis Team, which won a 2019 Sectional Championship. The Pennant's Ben Feltzer has a Q&A with Tiebout.
What is your pregame ritual?: Before each match, Coach Bowers gives the entire team a pep talk to fire us up.
Who is your favorite athlete of all time?: My favorite athlete has got to be Joe Webb.
If you could only listen to one song before each match, what song would it be?: "Tribe" by Bas and J.Cole.
How did you get into playing tennis and what have you done to get to the high school level?: My brother introduced me to the game. Because he had been playing it, I started practicing with him every weekday for 2 hours.
What do you plan to achieve after graduating high school? I plan on going to college and from there get a job in engineering.
If you could have dinner with three people, who would they be and why? Kobe Bryant, Bill Gates, and Frank Lloyd Wright. Kobe because of his work ethic, Bill because of his business smarts, and Frank because of his creativity.
What is one area of tennis you plan on improving the most?: I plan on improving my cross court ground strokes.
Who has been your biggest influence through your high school tennis career and why?: Coach Bowers, because he has helped me evolve my game and become a better overall player on and off the court.
What is the strangest thing that has happened during one of your matches?: One time I served the ball and it hit my opponent in the face and resulted in giving him a bloody nose.