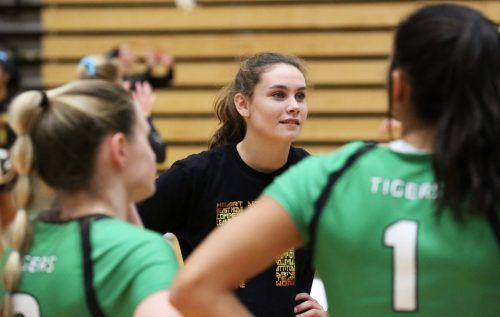 Ally Hickey, a senior on Penn's Volleyball team, has been through a lot to begin her season. After suffering a shoulder injury, she was on a long road to recovery.
Now, after watching her team play during the regular season, Hickey is ready to get back on the court and make an impact in the State Tournament.
Coming back from a shoulder injury halfway through the season was tough for Hickey.
"I made sure I did my physical therapy everyday so I would get back to the game faster," Hickey stated. "I came in every practice and helped my teammates if they needed more individual help."
While watching her teammates compete for the first half of the season, Hickey used it as an opportunity to get better.
"It made me a better volleyball player, because I was able to see the game in a different way. It definitely raised my Volleyball IQ."
Hickey's return to the team was a big deal to her teammates and coach. Hickey helped the Kingsmen reach the Final Four in Class 4-A last season.
"We couldn't be happier to have Ally be able to rejoin the team in a vital role in the backcourt," Penn Volleyball Head Coach Lisa Pawlik said. "Her positive knowledge and love of the game is evident everyday."
Hickey says it was hard to come back halfway through the season after having so much time off.
"It's hard because I'm not as physically strong as the other girls, but that just makes me want to work harder," Hickey said.
As a senior leader, Hickey has a lot of responsibilities. "My responsibility as a senior leader is to be a role model for the younger girls and to teach them that team comes first."
With two older sisters coming through the program, the Hickey household knows what it's about. 
Hickey is committed to Lewis University to further her academic and volleyball career.
"I chose Lewis because I really liked how competitive the team is," Hickey said. "It is also close to my family and they have been a huge part of my career."
Penn volleyball has also done a great job in getting Ally prepared for the next level.
"Penn Volleyball has taught me leadership skills … pushed me to go outside my limits. The mindset I have now will help me in college."