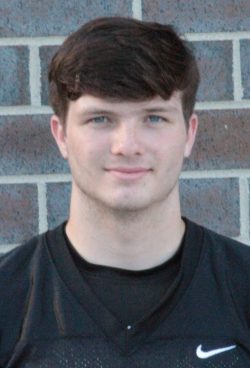 Ryan Treber is a Sophomore on the Penn Football Team. He was on the Varsity Team last season as a Freshman.
What is your favorite movie? "The Christmas Movie".
What is your ultimate goal in life?: To play in the NFL
Who inspires you the most and why?: My parents because they are hard working and they push me to do my best.
What drives you to work out and train everyday?: The drive to be the best at everything I do.
How do you come back from a big loss?: After a big loss, I focus on what's next and learn from my mistakes.
What challenges did you come across in getting where you are at today?: Last year I got pulled up to varsity, but I never started. Being on the sidelines made me want to push myself harder for the next year to get that Wild Bunch sticker.
What do you love most about your sport?: Being able to go out everyday and play with my brothers.
What is your favorite pump up song?: Party in the USA- Miley Cyrus.
Why did you pick football?: Growing up I had always watched my brothers play it.
What goals do you want to accomplish by the end of your high school career?: I want to win a state championship and play in the North-South All-Star Game.