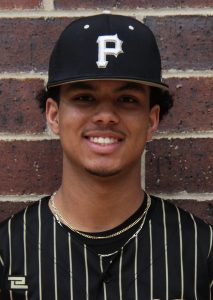 RJ Cromartie is a bright baseball prospect who plays for Penn High School. He has been moving up the ranks in the class of 2024 and has recently committed to Notre Dame.
The junior says his passion for baseball started at a young age. He grew up in a sports household. His father played soccer in college and both of his siblings are involved with sports. Cromartie says his father has been his biggest inspiration in his life.
"What really helped me gain my passion for baseball was my dad, he would always have baseball games on the TV since the time I was 3, I just fell in love with the game of baseball and I haven't looked  back," Cromartie said.
Cromartie says he is always looking to better himself on and off the field.
"Sports are such an important aspect of my life because of the bonds you create in sports. It's bigger than just the game as I would like to say, through sports and families that you won't find anywhere else," Cromartie said.
Cromartie has already committed to the prestigious Notre Dame University as a junior. While he still has time left with the Kingsmen, Cromartie says he's looking forward to his career with the Fighting Irish.
"What really stood out most to me about Notre Dame was just everything they are known for. From their beautiful campus to the 4 for 40 motto, there was really just nothing that could go wrong in choosing Notre Dame. The school has very prestigious academics and graduating with a Notre Dame degree will set you up for life. I wanted to be a part of it, and I knew how much it would mean to my parents and I if I could accomplish this. It has also been a lifelong dream of mine and they're right down the road from me, so being able to make this come true is a blessing and I will be forever grateful," Cromartie said.
The Penn Kingsmen Baseball team open up their 2023 season on March 28th when they take on the LaPorte Slicers.