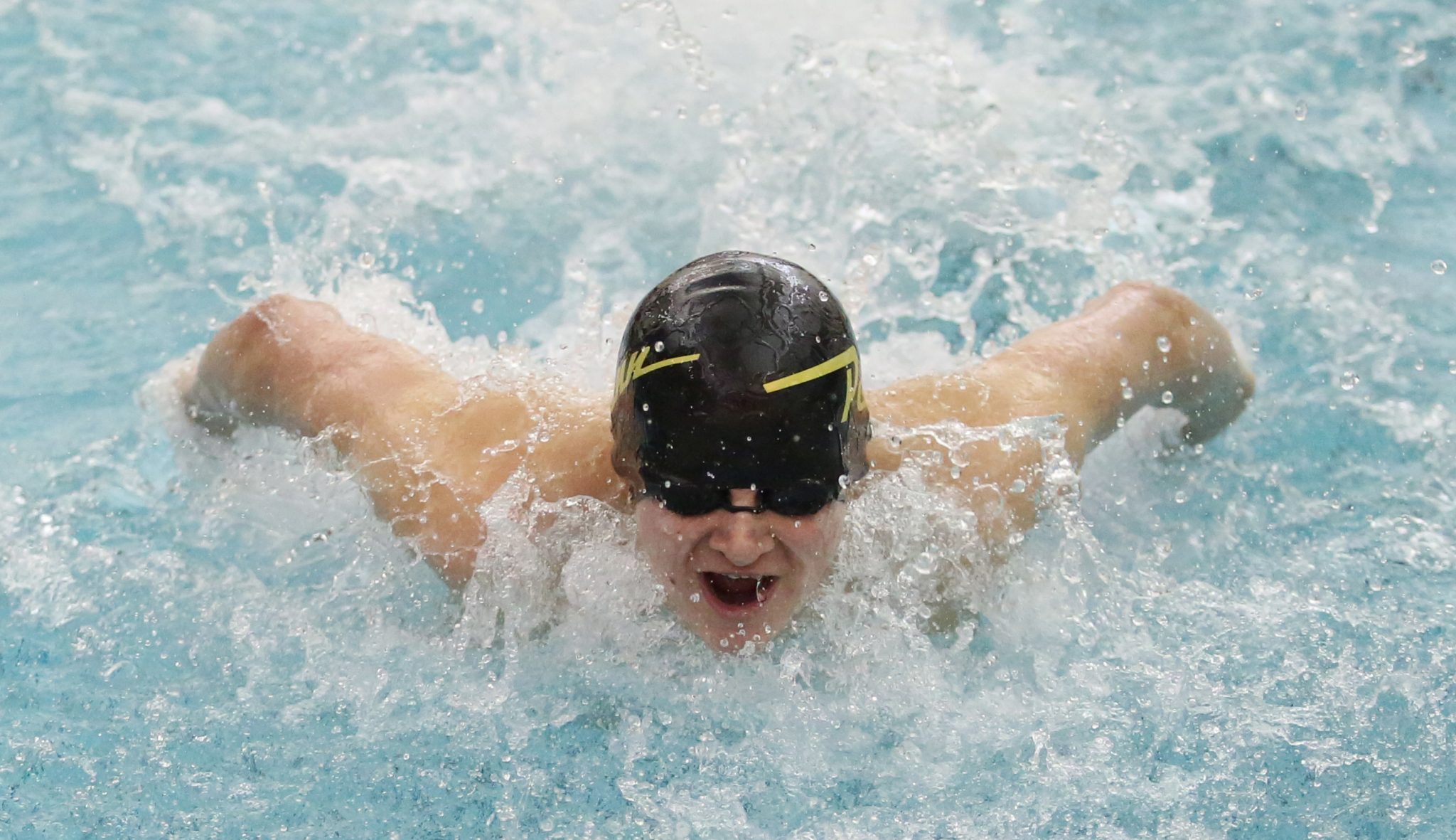 Joel Cummins is a two-time State Champion Swimmer for the Penn Kingsmen.
What was your pre-state meet routine? What do you do to get into a competitive mood?: Before meets, I like to listen to music to helped get myself in a competitive mood. I like to listen to a lot of oldies so a lot of music by Queen and Eminem. Also, I tend to eat pretty light before meets because I hate swimming on a full stomach so I will usually just have a granola bar or some fruit before I swim.
Obviously you've been in this state environment before. Was there any extra pressure on you and your senior teammates to perform well with this being your last year? Did you set high expectations for yourself?: This year we went into the state meet with pretty much the same energy we do every year. It was obviously a little different this year due to COVID, which means there were no fans at the natatorium, but it was still an amazing environment with lots of fast swims.
You were a part of the state champion 200 Freestyle relay team in 2020 and 2021. How does it feel to walk away from your time swimming at Penn with two state championships?: It was very exciting to be part of the 200 free relay team. After winning last year in 2020, we knew going into the meet that we had a very good chance to once again claim the state title. We knew that the race would be a little tighter than last year, but we knew we had a good possibility of taking the gold two years in a row.
Practice makes perfect, so what did you do in your practice time to become a champion? How did you motivate yourself to improve?: This year was definitely a different year when it came to practicing. The team was so large that we had to split into two different groups (due to COVID protocols) in order to give everyone a chance to practice. This meant that this year we would only be doing one practice a day instead of two. That being said, the practices this year were still very difficult and draining. Having my teammates at practice really helped me motivate myself to do better. I wanted to be the best that I could be so I could contribute to the team as much as possible.
Was winning state the most memorable moment you've had while swimming in your life? If not, then what moment was the most memorable?: Winning state was definitely one of the most memorable moments I have had in swimming. Also, all of the friendships and relationships that I have built over the last four years here at Penn have been very valuable.
What is your favorite race to do at a swim meet?: I really enjoy swimming the 100 butterfly.
What got you into swimming and why did you make it your No. 1 sport over soccer?: I actually started swimming to get in better shape for soccer when I was younger. I slowly started to realize that I was better at swimming than I was at soccer so I ended up quitting soccer and started swimming full time.
What is the funniest moment you've had with your teammates?: The funniest moments I have had with my teammates are the bus rides down to state. We always play a game called mafia on the way down to state which has been a tradition that has gone on for several years before I was at Penn.
Coach Preston was named Indiana Coach of the year this season. How has he helped you get better as a swimmer?: Coach Preston has been a huge part of my swimming career and success over the years. He has pushed me to be the best I possibly can in the water and out.
Who has been your biggest supporter during your swimming career so far? How have they helped you get through challenging times?: My parents have been the biggest supporters throughout my swimming career. They have helped take me to all the early morning practices and have motivated me to do the best I possibly can.