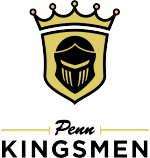 By BRADEN PITTMAN
The Penn freshmen football team topped the Mishawaka Cavemen in a 33-0 shutout on Thursday, Sept. 7.
Kyle Riffel raced 41 yards for a Kingsmen TD. 
Nick Favilla caught a 31 yard touchdown pass from quarterback Ryan Plummer.
Nate Ehmer had two rushing touchdowns one for a 31 yard run, and the other being a 5 yard run.
Plummer also threw a 3-yard pass to Aidan O'Connell for a touchdown to cushion the lead.
Ryan Majerek made three extra points.
On top of the stellar offense, Penn's dominant defense kept the Cavemen scoreless. The Kingsmen recovered three fumbles, which were recovered by Colton Dennis and Jake Rairdon. Rairdon had two fumbles recovered.
The Freshmen team remains undefeated on the season and advances to a record of 3-0.