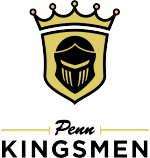 Penn Boys and Girls Cross County dominated the County Clash on Saturday, Sept. 9, sweeping the Varsity and Junior Varsity races, and leading the effort for St. Joseph County. A total of 16 teams competed.
Coach Tom Miller's Boys Cross Country Team boasted four Varsity runners under 17:00, and placed first with 49 points. Concord finished second with 130 points.
Penn's Boys had three runners in the Top 10, and five runners in the Top 20.
Colton Shail ran the 5K course in 16:36.73 and placed second in the individual race to lead the Kingsmen effort.
Matt Long placed seventh (16:48.24), Curtis Cornell placed ninth (16:48.52), Chandler Neal placed 12th (16:53.68) and Dillon Pottschmidt placed 19th (17:20.55).1
Cohl Fox won his second JV championship in a row.
Penn placed three runners in the Top 10 and five runners in the Top 15 and won the Girls Race with 45 points. Northridge placed second with 50 points.
Dani Spring placed second in 19:17.11.
Lauren Frank was fifth (19:45.48), Riley Keppler was 10th (20:08.40), Brooke Neal was 13th (20:19.76), and Aislynn Alkire was 15th (20:34.53).
Bre Enyeart won the JV championship.
Complete results are posted below: