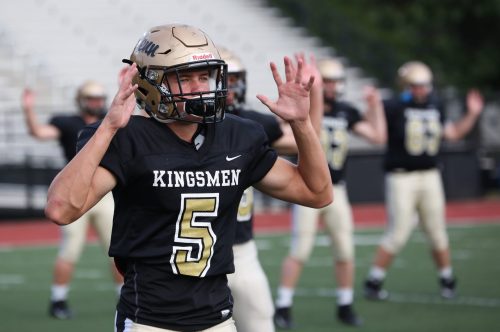 Every drill in practice, every down in a game, every victory … it all matters to Penn High School senior Tiegan Bothun, who isn't taking any moment of his 2019 Kingsmen Football season for granted.
Bothun missed the 2018 season due to an upper hamstring tear. He's making up for it as a difference-maker on the Kingsmen offense, helping Penn win a share of the Northern Indiana Conference.
"Being out my Junior year was one of the toughest things to endure, because of the work I put in," Bothun said. "Once I was cleared to play, I started working back to 100 percent. After a month, I was back and started improving.
Bothun put in extra work because he wanted to do to get better and improve as a player for his senior season.
The hard work has paid off. Bothun has 11 receptions for 180 yards and 1 rush for 13 yards. In Penn's 21-13 victory against arch-rival Mishawaka, Bothun made several key catches to help the Kingsmen reign supreme in the storied #BackyardBrawl.
Bothun started playing football in the second grade at the age of 8. He got into football mostly through his dad and watching NFL games.
Bothun has played for the Kingsmen for four years.
"My experience with Penn football has been great," Bothun said. "The friendships I have made and coaches at Penn are like no other. I couldn't be more thankful for those who have helped me along the way with Penn football.
"My favorite part about football is being able to go out with my brothers every Friday night being able to put on a show for the fans and the opportunity to make plays."
Putting on the black and gold jersey is something that is very special to Tiegan and something he cherishes every Friday night.
Coach Cory Yeoman, Head Coach of the Kingsmen, said " Tiegan is very hardworking in the off-season. He possesses great speed, has gotten a lot stronger and has continued to improve throughout his career here at Penn. He has improved a lot on his wide receiver techniques over the past few years."
As the Kingsmen start their playoff run next week, Bothun could not be more excited to have a chance at a state title with his teammates.