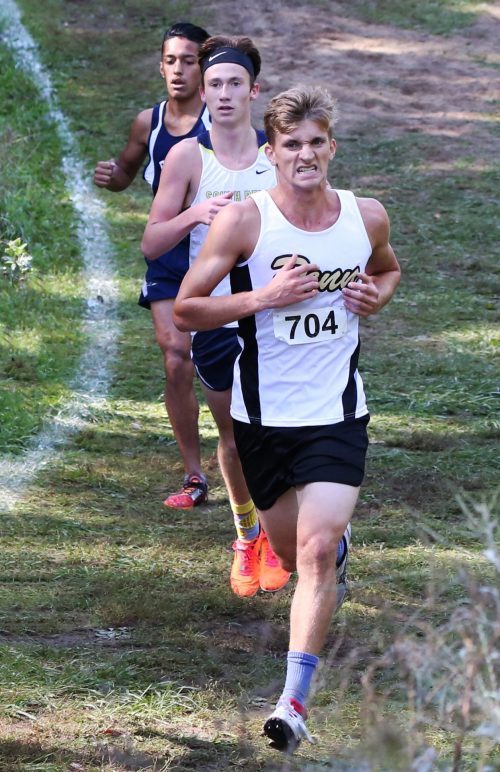 The sun just started to peek over the towering pine trees that line the Penn High School practice football field when Josh Temeles showed up for his first run with the Penn Cross Country Team.
A heavy dew had already soaked Temeles' running shoes as he stretched out on a hazy August morning for a 6 a.m. Team run.
Temeles transfered from Trinity School at Greenlawn, a school of fewer than 150 students, to Penn, a school with more than 3,500 students. He was used to leading the pack when he ran for Trinity, and he was ready to unleash his talents and impress his new Kingsmen teammates.
"I wanted to outwork everybody," Temeles said of his first run with Penn.
"I wanted to pick it up for the last mile, and a freshman, Mariano Retzloff, takes off with me," Temeles recalled. "The whole run, I'm tired, but suddenly I tried to pick it up to see what I could do.
"Well, Mariano pulls away, and there's nothing I can do to catch him. That's when I realized this was a work-mentality team, and everybody was out to get each other, and I was not the best."
Temeles was immediately struck with the thunderbolt that he would be competing at a higher level when he put on the gold-and-black jersey.
"I was expecting good competition, but actually seeing it and running with the guys was a slap in the face, but I was happy to be with great competition," Temeles said. "I knew if I ran with teammates better than me, I'd get better and the team would get better. I saw it as an opportunity to grow and become a better runner and a better athlete.
"The competition that we were running against, the inter-squad competition was a big step up," Temeles said. "Running at Penn was a challenge, but I settling in. The guys pushed me to be a better runner and better teammate. I'm thankful that I've had the chance to run for Penn. It's helped develop me as an athlete.
By the time the 2018 State Tournament rolled around, Temeles improved enough to earn a spot in Penn's Sectional line-up. He helped the Kingsmen win Sectional and Regional Championships, and earn a berth in the State Finals.
In 2019, as a Senior Leader, Temeles is once again is helping put Penn on a path to the State Championships. The Kingsmen have won Sectional and Regional Championships, and compete in the Semi-state at Purdue Fort Wayne on Saturday, Oct. 26.
Temeles has thrived at Penn athletically and academically at Penn. He owns a 4.125 Grade-Point Average on a scale of 4.0.
"Josh is a natural leader whether he's on the course or not," Penn Senior Alyssa Richards said. "He's very team-oriented and makes sure that each of his teammates is giving it their all. It's easy to see that Josh is a hard worker and serves as an excellent role model for his fellow classmates and teammates as he pushes the people around him to give 100 percent effort."
Temeles is also difference-maker on Penn's world-class Robotics Team.
"Starting out at Penn was a huge culture shock," Temeles said. "Going around to different classes, having different people in every class, the amount of ideas and culture in each class was new for me. There all different races, cultures, faiths, political ideologies … it's been a great chance to gain an understanding of what our nation is about and accepting diversity and seeing it as a strength.
Temeles was never interested in Robotics until he transferred to Penn. His father told him about the program, and Temeles decided to watch a Robotics competition.
"It was the coolest thing watching the robots slam into each other and score points," Temeles said. "I was fascinated by the idea of working with a group of people to create a complex object that I never thought I would have the chance to do."
Just like in Cross Country, Temeles has worked his way to the front of the program. He handles finances for Penn Robotics, overseeing fundraising and a $60,000 budget. He is interacts with sponsors and is involved with writing grants.
Temeles plans to attend a Service Academy, hoping to be commissioned as an officer in the United States Armed Forces.
"It's something I've thought a lot about," Temeles said about a career serving the nation. "I want to give back to a country that has really protected and benefited me and all my friends and the people around me. I think people miss how well off we are.
"I want to get an opportunity to not only protect what we have here, and serve what we have here, but see what other countries have, to have a better appreciation of our lives an as American," Temeles said. "I love this land and its ideals. I really want to protect it for the people around me, and for future generations. Hopefully they will want to be inspired by that and protect it for their sons and daughters."