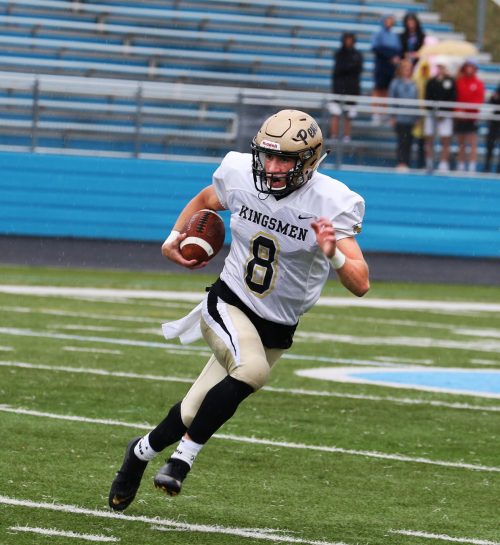 Nick Favilla started off the year as the go-to Wide Receiver for then No. 1 Quarterback Ron Powlus.
But in the midst of turning in an outstanding performance against the LaPorte Slicers, Powlus suffered a season-ending injury.
Favilla, who had never played quarterback before, found himself lining up as the Kingsmen quarterback for Penn's next game — a baptism of fire against No. 2-ranked Homewood-Flossmoor (Ill.), and then Ohio powerhouse Cincinnati St. Xavier, ranked No. 39 in the nation.
"I felt nervous," Favilla said about initially being switched from Wide Receiver to Quarterback.
Favilla knew that the whole team was counting on him to be the leader, but he was excited to fill the shoes.
"It was a chance for me to do great things," Favilla said.
Favilla, a 6-foot-2, 185-pound Junior, checked one of the top traits that Penn Head Coach Cory Yeoman was looking for in a quarterback – athleticism.
"Knowing the offense and the passing game helps, but he's a physical player and an outstanding athlete" Coach Yeoman said.
Favilla has stepped up and fill the role of QB1.
Enduring tough games against Homewood-Flossmoor and St. Xavier, Favilla has gotten the Kingsmen on track. Penn has won four of its last five games, only losing a last-second battle to No. 1 Class 4-A New Prairie in that stretch. Favilla gained more than 100 yards rushing and passed for more than 100 yards in the game against New Prairie.
Favilla made sure that Penn walked off the field winners against arch-rival Mishawaka in the much-hyped final meeting between the Kingsmen and the Cavemen as Northern Indiana Conference rivals. Favilla helped Penn score a 21-13 victory that enabled the Kingsmen to claim a share of the Northern Indiana Conference Championship.
Playing Wide Receiver gave Favilla an advantage in understanding certain defenses better. It aided him, because he knew exactly where to be as a receiver and how to find the weak spots. Now it helps him, because he knows exactly where his receivers will be and he understands more of how defenses work. Playing at QB has improved his Football IQ.
There's no question that Favilla has gotten more comfortable at his new position.
"I've become a lot more patient in the pocket and have been able to read the defense better," Favilla said. "I've also learned how to run the ball better."
Favilla thinks of himself as a running Quarterback and styles his games off of pro QBs like Kyler Murray from the Arizona Cardinals, Lamar Jackson from the Baltimore Ravens, and Classic Michael Vick from the Atlanta Falcons and Philadelphia Eagles.
Although Favilla thinks of himself as a running Quarterback, he has definitely improved his pocket passer mentality and has even been able to make some unbelievable passes on the run.
"I am very excited to be heading into the playoffs as QB1," Favilla said. "I am confident in the rest of my team and myself."
Favilla and the offense had come in clutch and got business done, its no doubt that the Kingsmen offense under the leadership of QB1 Nick Favilla will definitely bring the heat and carry on the intensity through out their playoff run.