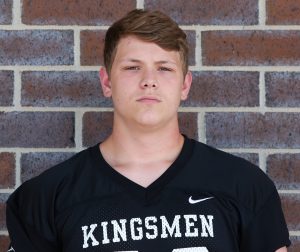 Junior starting right guard Oscar Lauer had to make some big changes this year for the Kingsmen. Lauer had played defensive line freshman and sophomore year for the Kingsman.
After former right guard Ryan Williams moved to the defensive line, someone had to step up and take the offensive line spot. The coaches knew that Lauer would be up for the challenge, and be a key contributor to the offense. 
 Lauer, a 6-foot-2, 235-pound Junior, embraced learning a new position.
"Changing positions has definitely been a positive change for both me and the team," Lauer said. "Having played both ways, I use it to understand how to block better and vice versa. I also feel more impactful at guard."
Lauer's work ethic and character has always been beyond standards. He works everyday to make the team and himself better. 
 Junior starting defensive tackle Owen Wiseman said that Lauer brings a team-first attitude to the Penn Football Program.
"Oscar has always been a very positive teammate who never fails to help make me better," Wiseman said. "He always has a great attitude and strong build to help keep our team in check."
Lauer has been very influenced by the Penn's football coaching staff, but certain coaches have made his experience playing the game more successful.
 "Coach Griman, Coach Cory (Yeoman) and Coach Laidig are the coaches who have helped me the most," Lauer said. "They are all encouraging and really know football."
Lauer will look on to help the Kingsmen for the rest of the season, and continue to improve his game.