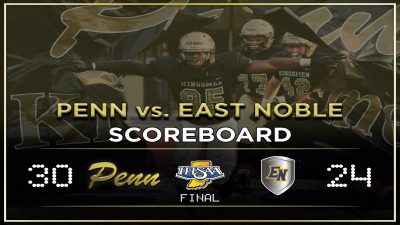 Visiting Penn unleashed a pair of late lightning bolts to stun No. 2 (Class 4-A) East Noble, 30-24, on Friday, Sept. 11.
Kyle Riffel broke loose with a screen pass from Ron Powlus to sprint 58 yards for a touchdown with 36 seconds left in the game to give the Kingsmen a 30-24 lead.
Matt Sastre finished off East Noble's final threat with a quarterback sack on the last play.
After East Noble scored with 2:34 left in the fourth quarter to tie the score at 24-24, Penn drove 85 yards in three plays to take a 30-24 lead with :36 left.
With 1:32 left in the game, Nick Favilla gained 19 yards on a pass to the Penn 45 to set up Penn's stunning finish.
Ron Powlus started the Kingsmen scoring with a 49-yard TD strike to Zac David.
Kyle Riffel's eight-yard run capped a 91-yard drive in the second quarter.
Alec Hardrict stung East Noble with a 65-yard punt return.
Braden Primrose's 30-yard field goal gave Penn a 24-16 lead with 8:39 left in the fourth quarter.
Kyle Riffel rushed 27 times for 130 yards and caught two passes for 71 yards.
QB Ron Powlus 9-of-20 for 220 yards and 2 TD strikes.