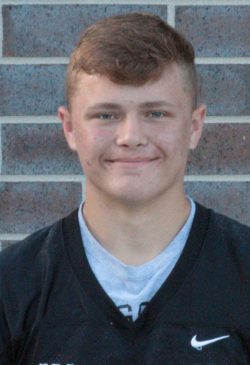 What are your pre-game rituals?: I tape up my hands and listen to my pregame music and also wear the same shirt for
every game.
Who is your all time favorite football player and why?: Lawrence Taylor because he was such a dominant player because offenses had to change the way they played the game to avoid him.
What is your favorite moment from your Penn season so far this year?: Against LaPorte, I had a blocked punt for a touchdown and it was hype.
What teammate makes you push yourself the hardest at practice that you compete with on the field everyday?: I would say Brendan Huffman because we like to compete with each other everyday in game or at practice.
How do you overcome your mistakes made on the field?: I focus more on them at practice in order to not make them again or I ask the coach.
What is your favorite sports movie and why?: Hoosiers because being from Indiana and having a movie based in your home state is
something special.
What goals do you have for the rest of your sophomore season and what are going to do to achieve them?: Earning my varsity letter and I will earn that by not wasting any rep or opportunity I get.
When do you think it is a good time to step up and become a leader when the team is down in the game?: When people start to lose hope I usually try and pick up my game and motivate them to the highest standard.
What is your favorite motivational quote?: Talk less and do more.
What is your go to meal before a game?: An Arby's roast beef and cheddar cheese sandwich and a vanilla and banana protein shake.