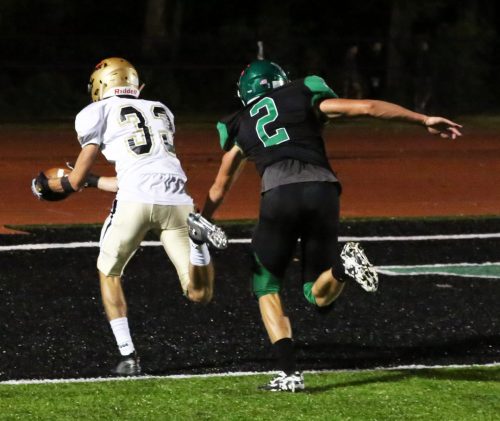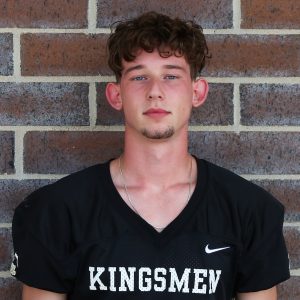 Nathan Hurbough sprinted on the gridirons and tracks of  Texas last season for Hurst Bell High School.
But after he father accepted a job in northern Indiana, he's wearing the gold-and-black colors of Penn High School.
Hurbough is a 6-foot-2, 154-pound Senior Wide Receiver for the Kingsmen Football Team, and he plans on running track for Penn.
Moving 1,000 miles away from his Texas home, Hurbough didn't know exactly what to expect. After being at Penn for a month, Hurbough's early impressions of Indiana are positive.
"When I first got here I didn't know what to expect … I'm enjoying the different style of play," Hurbough said.
According to Hurbough, there are distinct differences in Texas and Indiana high school football.
"The play styles are different," Hurbough said. "Texas is a whole lot more 'athletic' and much more uptempo and physical.
"Indiana, on the other hand, is a little slower, but pays much more attention to detail and is much more complex."
Hurbough said that he is embracing the mental challenge of playing at Penn, and thinks it makes him a better player each day.
Another way that Hurbough wants to step up his game is as a Senior Leader. Hurbough makes it very clear that he wants to be a role model to younger players.
"As far as personal goals, I'd like to continue become a better leader … to make sure I'm always somebody who people look up to."
Kingsmen Running Back Kyle Riffel said that Hurbough, who scored a touchdown against Valparaiso in his Penn debut, has made a positive impact for the "Gold Rush."
"He's a very funny and athletic player," Riffel said. "He brings our chemistry up and boosts the teams energy. He makes going to practice and games a lot more fun. Of course, he also helps us physically."
Hurbough has proven he can perform when it matters the most.
"I finished first in the 400, triple jump, and the 4×4 relay all at the regional meet," Hurbough said. "With the help of my coaches and teammates, it's the best moment in my career."
And as Hurbough competes in his Senior Football and Track seasons at Penn, Kingsmen fans are hoping there are a lot more special moments in his career.